Students protest Brock Turner's 6-month rape sentence by disrupting Stanford graduation day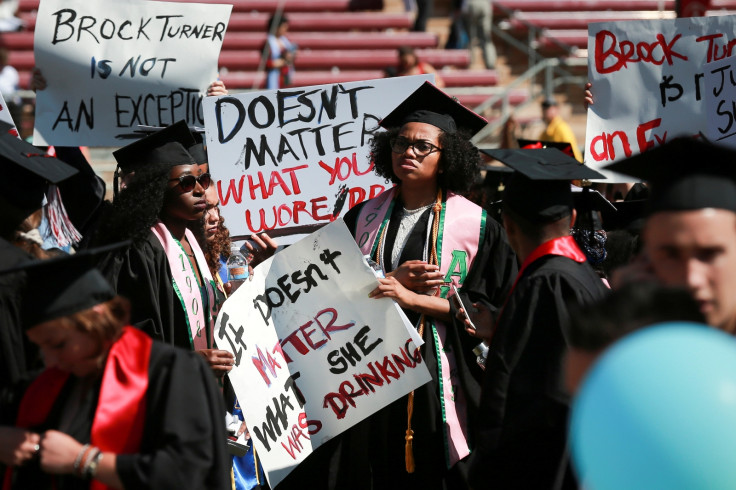 Protesters rallied against the six-month sentence handed to Stanford University student Brock Turner for raping a woman by disrupting the campus' graduation day on Sunday, 12 June. They chanted and waved placards to show their anger.
The protesters, joined by women's rights advocates, first demonstrated during Stanford's traditional Wacky Walk, a stroll by graduating students dressed in costumes, Associated Press reported. They waved signs with messages including "Stanford protects rapists" and "Fire Judge Perksy" referring to the judge who sentenced the former Stanford champion swimmer.
Later, graduates in caps and gowns also held similar signs at the ceremony itself.
Turner's sentence outraged many in the community after he was convicted of assaulting a woman at a campus party who had passed out from drinking. He was chased and caught by two passing bicyclists who witnessed the 2015 attack. The judge didn't want Turner's life ruined, he said when handing down the sentence. The swimmer's father was annoyed that Turner was handed even the short six-month sentence for the rape, which he called "20 minutes of action."
Recent information indicates that Turner may have sent photos of his victim's breast to pals. The story was rocketed to media attention when the victim read a harrowing letter in court before Turner's sentencing, graphically describing her ordeal.
Stanford commencement speaker and documentary film-maker Ken Burns called on Republicans to reconsider their endorsement of Donald Trump — and closed his address urging that sexual assaults be taken seriously.
"If someone tells you they have been sexually assaulted, take it effing seriously and listen to them," said Burns, who is the father of four girls.
Turner, 20, of Ohio, is scheduled to be released from Santa Clara County jail in September, after serving just three months, provided he exhibits good behaviour.
© Copyright IBTimes 2023. All rights reserved.