The father of murdered model, Reeva Steenkamp, is believed to be taking up the witness box for the first time, to testify in the trial of paralympian Oscar Pistorius. He is expected to ask for the athlete to be given a lengthy term, when Pistorius will be sentenced for an upgraded murder conviction.
Barry Steenkamp had not been well, and had suffered strokes following his daughter's death, and had not attended any court session acting upon his doctor's advice. He opted to watch the proceedings on television, according to media reports.
A source told the Sunday Telegraph, "He decided he had to say thank you to all the people that supported him but also to say goodbye to his daughter.
"He is very fragile but he wants to do it. If he can, it will be a very powerful and emotional testimony."
Pistorius now faces a mandatory jail sentence of a minimum of 15 years as South Africa's Constitutional Court dismissed his bid to appeal against his murder conviction. Since he has served one year in jail, his sentence could be reduced to consider the time he was already imprisoned.
This trial starts on Monday 13 June and will run until 17 June - although sentencing could be handed down earlier. The original trial judge, Thokozile Masipa, will hear arguments presented at Pretoria High Court. The prosecution lawyers have said they would press for the full 15-year minimum sentence that South African law carries for a murder convict.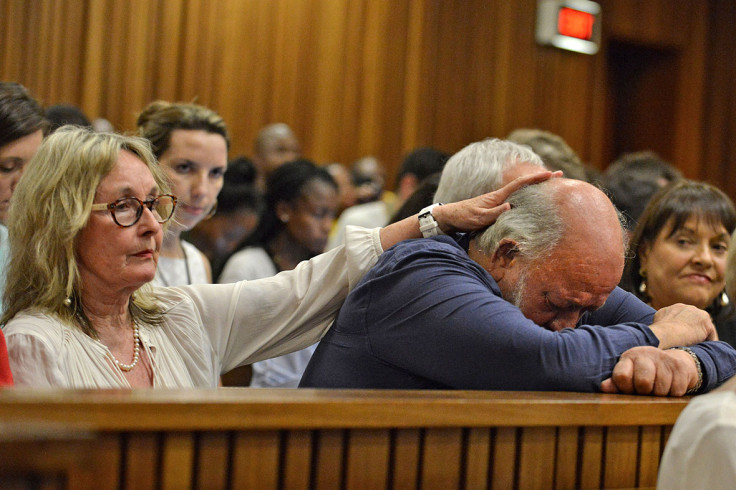 However, South African criminal lawyer, Ulrich Roux said: "He is very remorseful about what has happened and shows the court how this tragedy has affected his life. He should be able to withstand cross-examination. I think that would stand him in good stead."
Pistorius was out on bail in October 2015 and as part of his parole conditions, he was under correctional supervision to carry out unspecified community service work. He was living under house arrest in his uncle's home in Pretoria, and was not allowed to travel more than 12 miles from the location without seeking prior permission first.
The 29-year-old paralympian shot Reeva in the early hours of 14 February, 2013, at his home in Pretoria, South Africa. He was found guilty of culpable homicide/manslaughter, but the Supreme Court of Appeal later overturned the judgement and upgraded his original conviction to murder. He was initially sentenced to five years in jail.