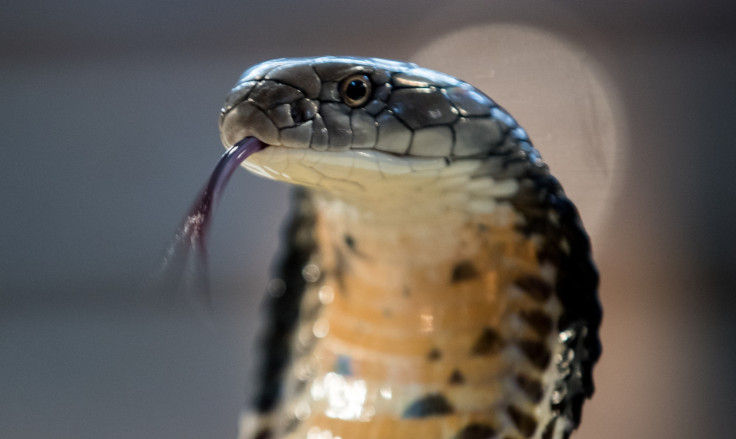 Rising temperatures in India attributed to climate change are not only causing concern for humans, but are also affecting the animal kingdom. So much so, that a parched king cobra – the longest venomous snake in the world – ventured into a remote village in the southern Indian state of Karnataka and literally drank water through a bottle, held by a wildlife rescue worker.
Although it is unclear when the incident took place, a video of the serpent drinking water from the bottle surfaced on YouTube on Tuesday (28 March). According to reports, the deadly snake entered Kaiga village – which has been declared drought-hit – in search of water.
The snake was found by a wildlife rescue worker, who offered it water to his bottle. The entire incident was captured by a local, which showed the 12-foot-long reptile gulping down water.
The footage shows an unidentified man holding the snake's tail to prevent it from launching an attack, while another man is seen pouring water on the cobra's head first and then feeding it through the bottle.
Later, the handler took the reptile to an animal care facility in the area.
The video has gone viral on social media and was viewed close to two million times on YouTube.
Praising the animal rescue worker for his effort, one Twitter user said, "Great job", while another tweeted, "Salute to the effort there".
The king cobra is one of the most venomous snakes in the world and a bite can kill a human within minutes. The endangered species is mainly found in forests in India and Indonesia, while in some cases it is found in urban areas, where they are usually killed.
It can grow up to a maximum length of 18.5 to 18.8ft, and generally avoids confrontation with humans. Although considered of aggressive nature, the reptile is said to attack humans only when threatened or to defend its eggs.