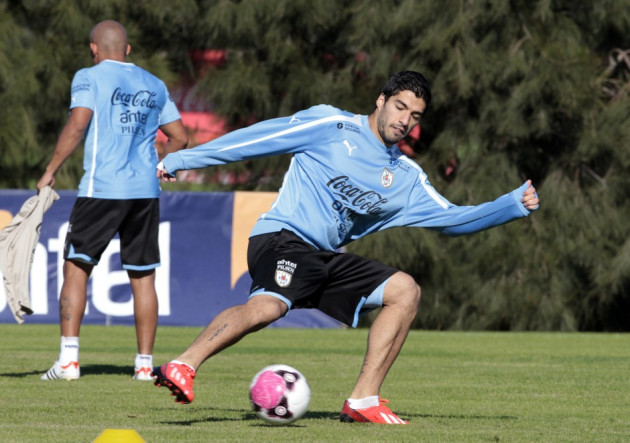 Liverpool manager Brendan Rodgers is in constant contact with Luis Suarez regarding his future at the club but the Northern Irishman has hinted his prized asset wants to play Champions League football.
Suarez wants to leave the Premier League after being vilified for a series of on the field controversies, the latest of which saw him receive a 10 match ban for biting Chelsea defender Branislav Ivanovic.
Despite Real Madrid having registered their interest, both Arsenal and Chelsea have been linked with a move for Suarez, who finished second behind Gareth Bale in the voting for the PFA Players' Player of the Year award.
And with Liverpool continuing to insist that Suarez is not for sale, with three years still to run on his current contract, Rodgers has reaffirmed the club's desire to keep the striker but admits his future ambition of playing in European football's top tier remains.
"I've spoken to Luis, over the course of the last few months and towards the end of last season there's been a lot of speculation with Luis because of his situation and what happened," Rodgers told talkSPORT.
"But the facts remain the same, we value the player, he had a terrific season for us last year and showed his qualities.
"I've been in communication with him, through texts and conversations on the phone and it's pretty much the same: He's a very valued player, an absolute magician on the football field."
"What he did was wrong at the end of last season, you can't do that on a football pitch, and it was something that was written about, but we've moved on from that," he added.
"With Luis, he's a real competitor, a real winner and wants Liverpool to do so well, but like every player, every manager, or more importantly every football club, he wants to be working at the highest level.
"For us, he's on a break, he was in the Confederations Cup, he's relaxing with his family, we're in constant communication.
"He has three years left on his contract, we don't want to sell him, and we hope that everything will be fine for the summer.
"We want to bring a few more players in to reinforce the group and we think we can put up a real fight next season.
"We communicate in some way nearly every day, either through text or through a conversation."
Should Suarez remain at Liverpool beyond the summer, he will miss the first six games of the season, with the ban from biting Ivanovic being carried over until the new campaign.
The ban was the second substantial punishment handed to Suarez during his time at Liverpool having been banned for eight games for racially abusing Manchester United's Patrice Evra in 2011.