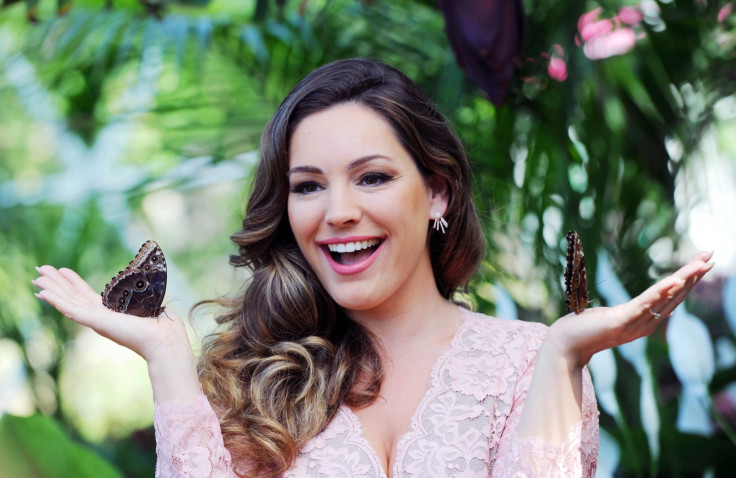 Model and actress Kelly Brook took to social media to share a photo of hers in a sexy black swimsuit. The image, however, brought more criticism than admiration as fans accused her of photoshopping the snap to make her waist look smaller.
The 37-year-old model, who is vacationing in France with boyfriend Jeremy Parisi, shared a snap in a Black-lace swimsuit, which highlighted her curves, with her 717k followers. The image was taken when she was relaxing on a sun-lounger poolside in Provence, France.
She captioned the image as, "Holiday Vibes #Provence #France#RoadTrip #HotelGalicci @jeremyparisi". However, fans noticed that there was something amiss with the floor behind her.
The image shows Brook sitting on a sun bed, but the floor behind her arm is also curved – which according to fans, is because Kelly Photoshopped the image.
A fan commented, "Photoshopped! Just look at the decking! You don't need to do that!! You have a great body!" While another noted, "Were you drunk when you edited this? Come on at least make it convincing."
"Photoshopped too much. Floor sold you out! But still hot!" commented follower of her, while another pointed out that she should embrace her curves.
"Photoshop fail around your waist @iamkb And we wonder why young girls have such a complex about their bodies these days rather than embracing what nature gave them. Such a shame," a user wrote.
A follower of hers urged her to get real and commented, "I think it's a real shame photoshopping your holiday snaps when it's not even a photo shoot where it's at least expected. What kind of message does this give to impressionable young girls? You don't look like this in real life, and that's okay, I'm sure you're still beautiful. But c'mon, you take on the job of being a role model when you take a job in the public eye. Stop trying to twist reality #getreal".
There were fans who loved her image. "I've always crushed on you for years now and you only get better looking the older you get," said an ardent fan. "Absolutely gorgeous" commented another.