Sudan has announced it will open a new humanitarian corridor to allow aid into neighbouring South Sudan. Earlier this year, South Sudan and the UN declared a famine in the country's Unity state, where 100,000 people are at risk of starvation.
Millions are facing food shortages due to a drought and prolonged insecurity, driven by a civil war that erupted in 2013.
"Sudan will spare no effort to assist its brothers in Southern Sudan until peace and stability are achieved there," Sudan's Foreign Ministry Under-Secretary Abdel-Ghani al-Nai'm said, according to the Sudan Tribune website.
He made the remarks as he talked with chargé d'Affaires in Khartoum, Steven Koutsis, on humanitarian developments in South Sudan – the world's newest nation when it separated from Sudan in 2011.
Earlier this month, two US ships carrying 47,000 tonnes of sorghum – half of which is for South Sudan – docked at Port Sudan.
Both the US and the UN praised Khartoum's efforts to assists civilians in the neighbouring country.
UN Resident and Humanitarian Coordinator in Sudan, Marta Ruedas, said: "By opening this cross-border corridor, the Government of Sudan is showing its commitment to the people of South Sudan and further strengthening cooperation with the international community to pull South Sudan back from a widening famine that could affect another one million people.
"This decision also comes at a critical time just before South Sudan's rainy season, which starts in May and usually renders these roads impassable" she added.
Sudan first opened a humanitarian corridor to deliver food assistance in South Sudan in July 2014. Last January, the agreement was extended for another six months.
South Sudan conflict explained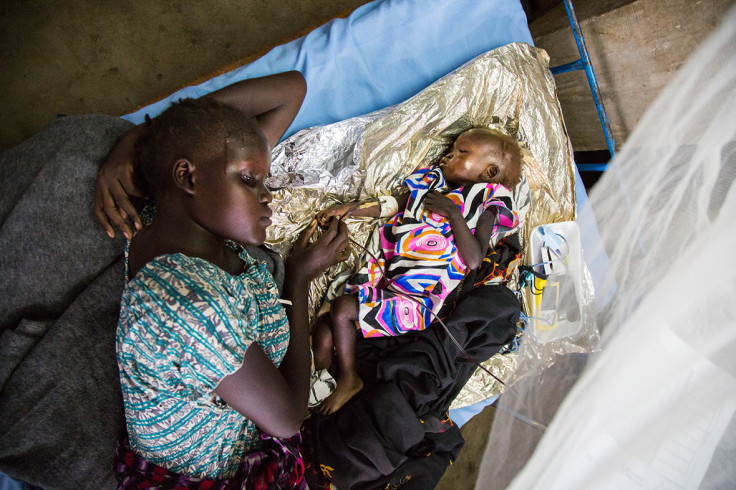 The South Sudan conflict erupted in 2013 when President Salva Kiir, of the Dinka ethnic group, fired his deputy Riek Machar – from the Nuer group – who then became a rebel leader.
Ethnic-related violence targeting Dinka and Nuer peoples has killed an estimated 50,000, amid allegations of crimes against humanity committed by both sides, including rape, torture and the use of child soldiers.
At least 1.5m people have fled to other countries. The exodus has been deemed "Africa's worst refugee crisis". More than 2m are internally displaced.
Kiir and Machar have agreed on several peace deals – the last of which was signed in August 2015 – but have failed to control their troops, who have broken every ceasefire since 2014.
Machar is currently in South Africa seeking medical treatment but, in an exclusive talk with IBTimes UK, he said he was ready "to go home".
His wife, Angelina Teny told IBTimes UK she believes her husband can contribute to achieving peace in the war-torn nation which is on the verge of a Rwanda-style genocide.