Violence in war-torn South Sudan might culminate in a genocide similar to the one occurred in Rwanda in 1994, the UN has warned. South Sudan descended into war in 2013, just two years after gaining independence from Sudan.
The UN Human Rights Council urged the international community to immediately deploy a 4,000-strong protection force across the country and set up a court to prosecute those behind atrocities.
"With the beginning of the dry season South Sudan teeters on the brink of a disaster," said Zeid Ra'ad al-Hussein, the UN high commissioner for human rights, during a during a special meeting of the council in Geneva.
"Weather conditions mean armed groups, militias and bandits can roam more swiftly across the landscape and there is a high potential for clashes between the government and fighters on multiple fronts."
War in South Sudan, the world's newest nation, broke when President Salva Kiir, of the Dinka ethnic group, fired his deputy and rebel leader Riek Machar from his cabinet.
Ethnic-related violence targeting Dinka and Nuer ethnic groups then spread, echoing the massacres against Tusti and moderate Hutu that caused at least 800,000 deaths in Rwanda 22 years ago.
An estimated 50,000 people have been killed in South Sudan amid allegations of crimes against humanity committed by both sides, including rape, torture and the use of child soldiers. Millions are displaced and are facing severe food shortages due to a man-made famine.
IBTimes UK's exclusive interview with Machar:
Kiir and Machar have agreed on several peace deals – the last of which was signed in August 2015 – but have failed to control their troops, who have broken every ceasefire since 2014.
Machar, who leads the opposing faction Sudan People's Liberation Movement-in-Opposition (SPLM-IO), fled South Sudan following deadly fighting in Juba in July. He is currently in South Africa, where he said he is seeking medical treatment, but in an exclusive talk with IBTimes UK said he was ready "to go home".
Unmiss 'failed to protect civilians'
Earlier this year, the nearly 14,000-troop-strong Unmiss (UN mission in South Sudan) was accused of not doing enough to protect civilians, when some 300 people were killed in the capital Juba in July.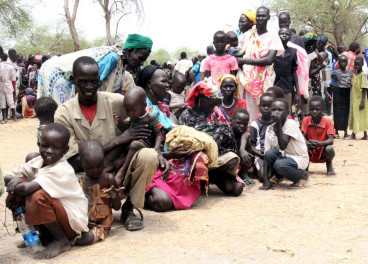 Deadly clashes erupted between government troops and forces loyal to Machar.
The clashes sparked a three-day long spate of violence which resulted, among other things, in the rape and killings of civilians and aid workers and failure to implement the peace deal.
Following the allegations of inaction, a UN probe concluded Unmiss had failed to protect civilians during deadly violence due to "a lack of leadership on the part of key senior mission personnel".
The probe resulted in the sacking of Unmiss chief, Kenyan Lieutenant General Johnson Mogoa Kimani Ondieki. The dismissal angered Kenya, which decided to withdraw its troops from the UN peacekeeping mission.
Following July's violence, the conflict has spilled into the Equatoria region, where several rebels are sheltering.