Meriam Ibrahim, the Sudanese Christian woman released after being sentenced to death for apostasy and then rearrested over allegations she was trying to flee Sudan with forged documents, has flown to Italy after more than a month in the US embassy in Karthoum.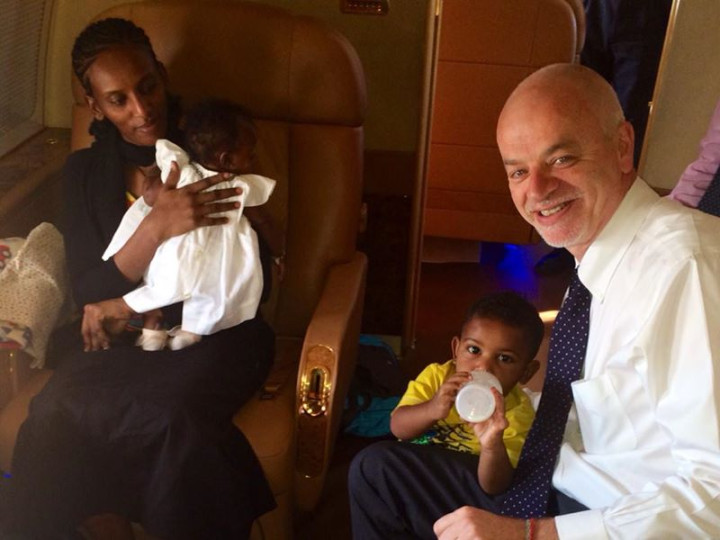 The 27-year-old and her family arrived at Ciampino airport on a plane provided by the government. She was accompanied by Italy's Deputy Foreign Minister Lapo Pistelli, who met her on 3 July. Prime Minister Matteo Renzi, who greeted Meriam on her arrival in Rome, said: "We are happy, this is a day of celebration".
Born to a Christian mother and a Muslim father, Ibrahim was sentenced to death by hanging under the country's strict Sharia laws after marrying a Christian, Daniel Wani, in 2011.
In Sudan interfaith marriage is forbidden and, according to Islamic law, children inherit the father's religion while the mother's line is considered irrelevant.
Ibrahim claimed she was raised a Christian and refused to renounce her faith. She was subsequently accused of renouncing Islam through her marriage and sentenced to death.
She was also sentenced to 100 lashes after being convicted of adultery, as her marriage was deemed invalid.
Ibrahim was imprisoned with her 20-month-old son, and gave birth to a baby girl while in chains.
Her case sparked global outrage with the British government calling on Sudan to release her.
Renzi mentioned Ibrahim during his speech inaugurating Italy's presidency of the Council of the European Union, which lasts six months.
"If there is no European reaction we are not worthy of calling ourselves Europe," Renzi said.
The Italian government is yet to confirm whether Ibrahim and her family have been granted permanent stay in Italy.