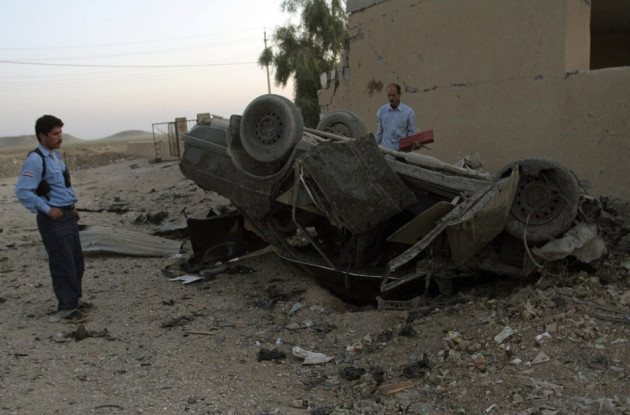 At least 27 people have died in a wave of suicide bomb attacks across Iraq.
Many of the dead are children, with one of the bombers driving a truck into the playground of a primary school in Qabak, near Tel Afar.
At least 12 students aged between six and 12 were killed in the blast, along with the school's headmaster.
Abdul Aal al Obeidi, mayor of Tel Afar, said: "It's a tragedy. These innocent children were here to study. What sins did these children commit?" He added that scores more children and adults had been injured in the attack, which took place at around 9.30am local time.
Another car bomb was used to attack a police station in Qabak, a small village in northern Iraq that has been surrounded by Sunni insurgents and extremist fighters arriving from Syria.
The village is home to just 200 people and part of the single-storey school collapsed as a result of the bomb. "We and Iraq are plagued by al-Qaida," al-Obeidi said.
"The fingerprints of al-Qaida are clear on both attacks," a town official told Reuters.
Another suicide bomber blew himself up a few hours later among Shiite pilgrims in Baghdad. At least 14 people have been confirmed dead, with 23 others wounded, police and hospital officials have said.
The pilgrims had been walking through the predominantly Sunni neighbourhood of Waziriyah, making their way to a shrine in northern Baghdad where two saints are buried.
A policeman at the scene of the blast told Reuters of "pools of blood, shoes and flesh are covering the ground". Women and children were among the victims, he added.
This is the second attack on Shiite pilgrims in less than 24 hours. A suicide bomber attacked pilgrims in Azamiyah yesterday, killing 51 people.
No group has yet claimed responsibility, but suicide bombers and car bombs are frequently used by al-Qaida's Iraq offshoot and often target Shiite civilians. The group's extremist beliefs consider Shiites heretics. At least 135 people have been killed in attacks so far this month alone.
Over 60,000 people have been killed this year, according to the monitoring group Iraq Body Count.