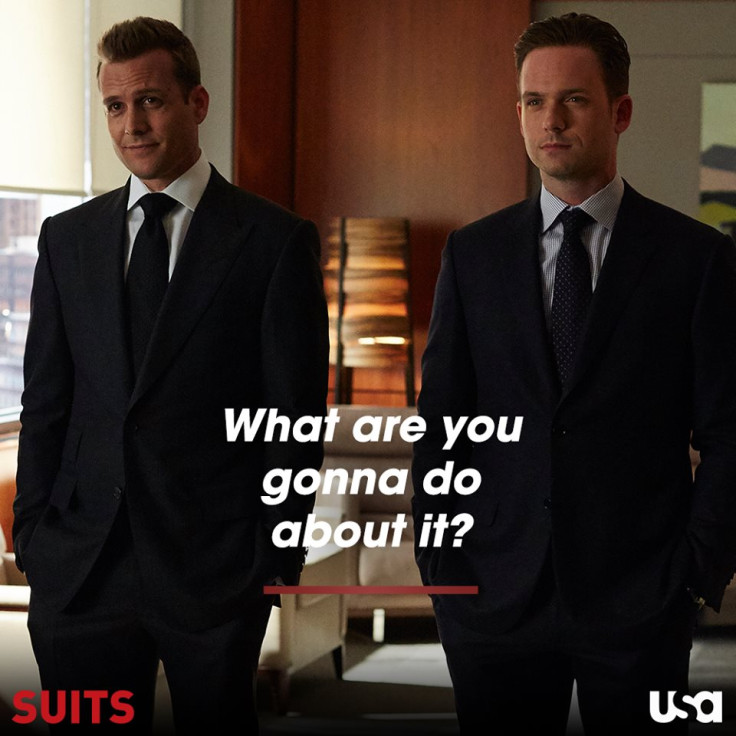 Suits season 5 ended with Mike Ross taking the two-year plea deal and entering federal prison on charges of fraud. The sixth season of the USA Network series will pick up with Mike in prison, as actor Patrick J Adams, who plays the character, took to Instagram to share an on-set image featuring prison life.
The image shows prison inmates wearing blue shirts and black pants inside a wall guarded by security. Adams wrote: " Yardies #suits #seasonsix," hinting at Mike's fellow Jamaican inmates.
The upcoming season of the hit legal drama will premiere on 13 July at 9pm EST. The premiere episode will take place in one evening, going back and forth between Mike Ross's first night in prison. Also, Harvey Specter, Jessica Pearson, Louis Litt and Donna Paulsen will be left to pick up the pieces at their practically vacant firm.
Creator Aaron Korsh had shared an image from the season 6 premiere episode back in May, featuring Adams in his prison cell. He wrote: "I'm ready for some #Suits Q & A. As a bonus here's a picture from 601 w/@halfadams and @silvertree77."
Speaking about Mike's decision in the season 5 finale, Adams previously told TV Guide: "I think he knows he had to put a stop to this. Would it have been good if he was just found not guilty? It would be an interesting show — well, he's a lawyer now and everyone who watches the show knows he's not, but then it'd just be a lawyer show. I think the show has always been about more than that. This is really gonna expand the show.... "
The actor revealed that he is excited to see how Mike deals with prison life. The 34-year-old actor explained: "There's something of a hero's journey in [his decision], where someone just has to man up and say there's an out here. He's found a family in these people and the last thing he wants is to have a decision he made out of desperation to be something that rips them all apart. And if he has to take the bullet for two years, then he's gotta do it. I'm really excited to see what that does for Mike from this point on."