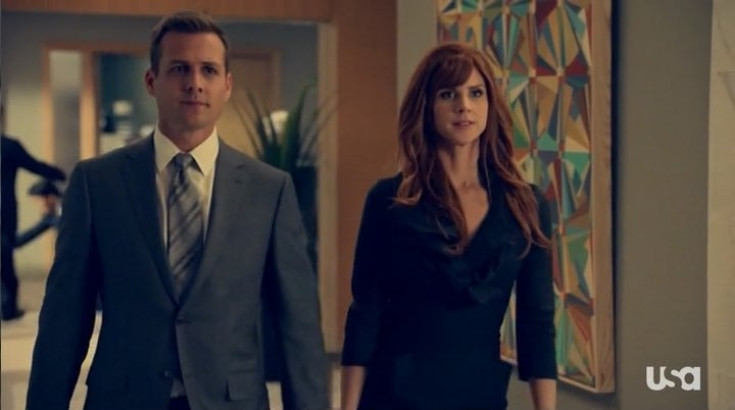 Suits season 7's summer finale aired last Wednesday (13 September) and it was all about Harvey Specter and Donna Paulson's unrequited feelings. But fans will have to wait until next year to find out what happens next.
Episode 10 titled Donna ended with Donna making a move that stunned her boss. She finally kissed Harvey and explained by saying, "I just had to know," which left him baffled.
USA Network has released the promo for Suits season 7 episode 11, which confirms that the show will air in January 2018. The promo opens with the scene of Donna kissing Harvey and the tagline reads, "It finally happened. What happens next?"
Creator Aaron Korsh spoke to Deadline about Harvey and Donna's kiss and its aftermath. "The way I'll explain the aftermath is to think about the circumstances in which Donna kissed Harvey. Obviously, she had just been through an incredibly emotional time," the showrunner said.
"That culminated in making Donna saying "I'm done putting Harvey above myself, I'm going to put myself above Harvey and I'm going to do this for me. I'm going to kiss him to find out how I feel, what I want." So she did that, I understand why," he explained of why Donna made the bold move.
Talking about Harvey's perspective, Korsh admitted, "Regardless of what that kiss may have done to him, he's in a committed relationship, and we know his feelings on fidelity."
He continued, "So, it was a bold move for her to do that, and if I was thinking about it, it was a little selfish of her. It might be justified, but I think it was obviously putting herself above him nonetheless."
According to the showrunner, the aftermath of the kiss will be played out in the rest of the episodes of season 7 episodes.
"So, I think the aftermath will have to do with that tension about her finally choosing to put her own needs above his and what that does to his relationship and the sense of himself as a faithful person. That's going to play out over the back six," he explained to the news outlet.