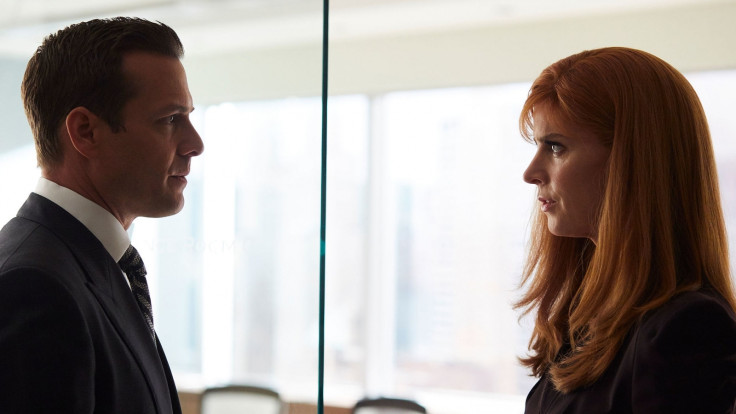 After being in denial for almost seven seasons of Suits, Harvey Specter and Donna Paulsen will finally address their feelings for each other in the summer finale. The 10th episode of the current season is aptly titled, Donna, and will air on 13 September at 10pm EST on USA Network.
A promo released for this Wednesday's summer finale shows Mike Ross trying to play cupid between them. Donna tells Mike, "Harvey and I don't want to be together," but Mike is not convinced with her reply and asks, "Are you sure?" Later in the promo, Mike tells Donna, "Tell Harvey how you feel!"
The promo tagline reads, "The summer finale will leave you speechless." Mike tries to make Harvey understand his feelings towards Donna. "When someone is special to you, it can mess up your judgment," he tells Harvey, who pointed out that he did not ask him for advice.
The episode 10 promo ends with Donna walking away as Harvey looks devastated to see her go. Actor Gabriel Macht, who plays Harvey, has teased the dynamic between his character, and that of Paula and Donna in the summer finale.
He told TV Line, "The idea that [Andy Malick] would go after Donna and put her on the stand creates this unbalanced version of Harvey, where maybe some truths might come out."
Teasing a big Harvey-Donna moment, Macht continued, "I think that Harvey could potentially be in denial about his feelings for Donna. Maybe he doesn't think they're right for each other, but maybe he doesn't know. Maybe he has not really investigated."
Detailing how his feelings for Donna will affect his relationship with his girlfriend, Dr Paula Agard, the actor told the publication, "In some way, he reveals that to Paula, [who] is extremely intuitive and knows that there are feelings. She's not a dummy. She knows there are feelings between [Harvey and Donna]."
"She doesn't know the whole of it, and when it gets to the point where she might learn that knowledge, it might be a colossal challenge for all three of them. We're in the beginning stages of stuff coming out into the open. The seeds are being planted," he concluded.
The official synopsis for this Wednesday's chapter reads as follows:
After their power move gets countered, Mike and Harvey end up with their backs are against the wall; Rachel worries about her father's clouded judgment; Louis helps Alex.
Click here to watch Suits season 7 via live stream on the USA Network. You can also watch the episode online by clicking here (only in the US).