With Microsoft HoloLens, sports matches of the future could be played out by three-dimensional teams on your coffee table or by life-size players who appear to burst through your living-room wall. The company has used the upcoming Super Bowl 50 to demonstrate how the system could work.
HoloLens is an augmented-reality headset that blends the real world in front of you with a virtual one projected over the top, and that only the wearer can see and interact with. The Super Bowl demonstration video shows how live game and player stats could be projected on to a wall.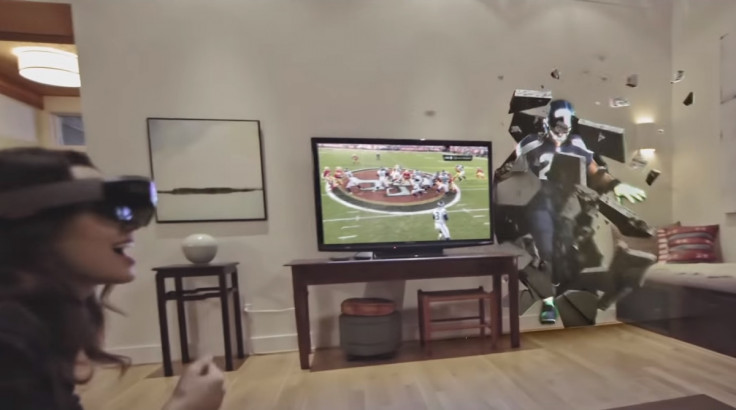 When HoloLens-wearing fans want to learn more about each player, they could see a life-size image standing in front of them alongside stats and facts. The headset could also create a much larger screen than your standard television, stretching the game almost entirely across your wall. But because this image is beamed directly into the wearer's eye, there's no need to close the curtains and keep the lights off, as is the case with using a regular projector. The most impressive feature is how replays of crucial moments could be reenacted on a coffee table, complete with miniature 3D players that can be viewed from any angle.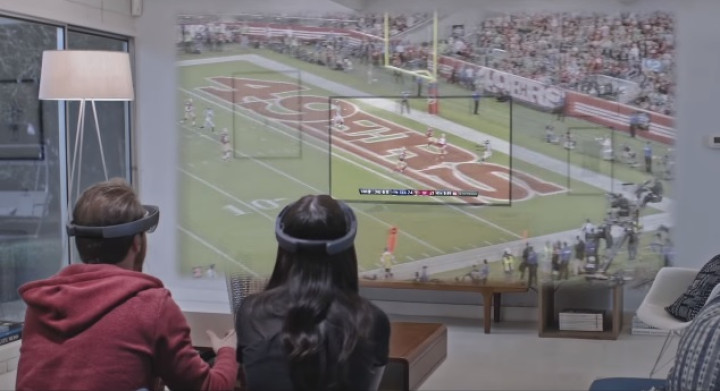 Like a real-life game of Subbuteo being played out in front of you, the simulation is hugely impressive, and we can only hope that Microsoft meets its own lofty goals when HoloLens goes on sale. For now, only developers who stump up $3,000 (£2,073) for a prototype kit in the next couple of months would get a chance to find out.
Early hands-on experiences with HoloLens, including by IBTimes UK, reveal an experience that is deeply impressive, but that struggles to replicate the simulations Microsoft uses to show it off. Users claim the view of vision is narrower than videos such as its Super Bowl demonstration may lead you to believe. So, while a medium-sized coffee table viewed from a few feet away would work, creating a wall-size TV screen, from what we have seen so far, would be more difficult.
That said, we can't wait to see sports demonstrations such as this for ourselves. Here is Microsoft's Super Bowl simulation video in full: