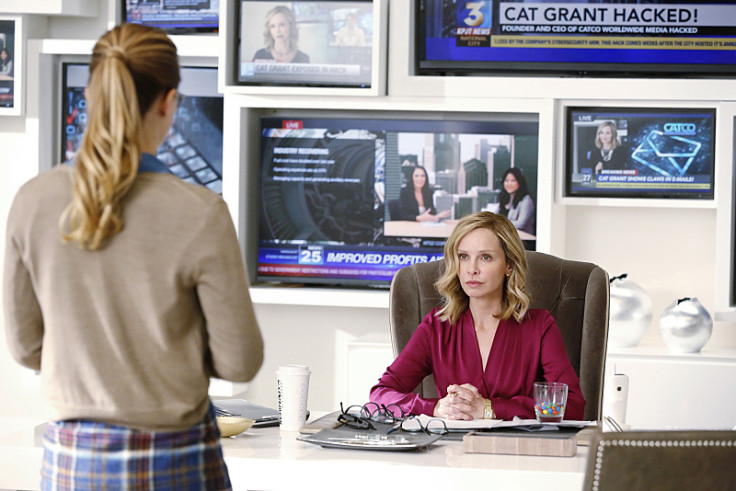 Supergirl has its fair share of lovable characters; from dorky do-gooder Kara Danvers and tech-savvy Winn to loyal Martian J'onn J'onzz and badass DEO agent Alex. But there's no denying that one of biggest fan favourites of the show is Calista Flockhart's Cat Grant. Since she left the show towards the beginning of season two, fans have missed her motivational speeches and matter-of-fact life lessons, so much so that they're wondering whether she'll ever return.
Fortunately for those viewers, TV Line has recently reported that while "Flockhart is not currently confirmed to appear in any additional season 2 episodes," but there has been "talk of [her making] a short-term comeback in the spring." So things are looking up!
In the popular superhero show, Flockhart's Grant was the CEO at worldwide media company CatCo, where Kara works when she's not donning a cape and fighting crime. She was instrumental in making National City regard Supergirl as a hero and consequently became a close friend of the Girl Of Steel.
She appeared in every single episode of the first season but only featured in two episodes of the second, which returns to our screens in January.
The series' network shift from CBS to The CW in May meant that the filming location changed from Los Angeles to Vancouver, Canada, and the Ally McBeal star could not be as involved this time round as a result.
When the news broke back in August that Flockhart was to have a significantly smaller role in the show going forward, executive producer Andrew Kreisberg previously stated: "Supergirl wouldn't be Supergirl without the amazing Calista Flockhart as Cat Grant. We are so excited Calista has agreed to continue on the show when she can. We and the audience love to see her on screen."
According to many publications, Flockhart plans to make infrequent visits to Vancouver, filming numerous scenes spanning several episodes at a time. So while it's unsure as to when Grant will pop up again exactly, it sounds like she's certainly not done with the show for good!
Supergirl returns on 16 January 2017, with the Kevin Smith-directed episode 'Supergirl Lives'.
For more entertainment news follow A-List on Twitter @Alistinsider