After the devastating events of Supergirl season 3 mid-season finale, the show has gone on a long winter hiatus. Fans of the show will have to wait until January 2018 to find out what is in store for Kara Danvers.
Supergirl season 3 episode 10 is titled, Legion of Super-Heroes, and it will air in a new timeslot, Friday (15 January) on The CW network beginning next year. In the mid-season finale that aired on 4 December, Reign and Supergirl finally come face to face and battle each other.
However, Kara's powers are clearly not a match for Reign, who doesn't go easy on the Girl of Steel in the most challenging battle of the show yet.
In her final chilling words, Reign tells Kara "You are no god, just as I am no devil. All I am is truth... and judgment. And death. And I will reign," and drops her from the roof of a skyscraper. Kara hits the ground with a devastating thud, before being taken away for emergency surgery.
Is Reign too much for Supergirl to handle? Sadly so. However, when the show returns Kara will have help from the Legion Of Superheroes to take down this new adversary. Former showrunner Andrew Kreisberg revealed to TV Line in November, "Episode 10 is called Legion of Superheroes, and you can't call it that without having the Legion of Super-Heroes in it."
He continued, "We've hinted at the Legion going back to Season 1, when we saw the Legion ring in the Fortress of Solitude, so the Legion will have a presence ... We feel that Reign is the best villain we've ever had — so it's going to take all the allies that she can muster to take Reign down."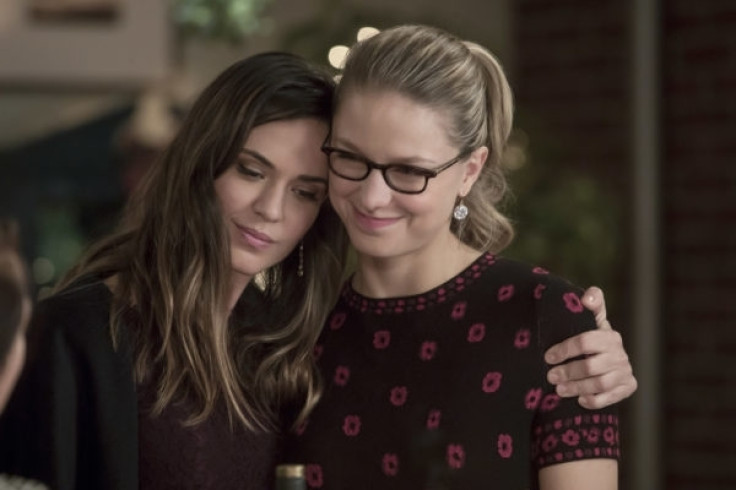 Melissa Benoist, who plays Supergirl, also said that Reign will surprise everyone. She explained to Collider, "I think Reign is going to surprise people. She is pretty spectacular to behold and she definitely will give Supergirl the fight of her life. I think what sets her aside from the villains that we've seen — the Big Bads that we've seen up to this point on the show — she has a really surprising backstory that's quite grounded, that gets you really invested in who she really is fundamentally."
Although Reign is a power to be reckoned with, her human alter ego, Samantha, is a good friend of Kara and because of their relationship, Kara will be more lenient towards her, said Benoist.
She said, "As always, I think Kara will always choose to fight to change someone's mind or to make someone see the good in the world or that they should fight for something different, or maybe they're misguided, or maybe they shouldn't be hurting people."
"I do think she — I don't know if sympathy is the world, but Supergirl and Kara's compassion always trumps whether she needs to defeat — that's always the first choice," the CBS star added.
Chyler Leigh, who plays Kara's sister Alex in the show, also revealed that everyone in the DEO will have to step up to help Kara against Reign.
"It's kind of like a collective force coming from Supergirl's side. Reign is the Big Bad and she's a Big Bad, so it's really everybody trying to figure out what they can do with their skill set, or what they have to be able to take her down as quickly as possibly and that is just not boding well for anybody, other than Reign, really, when it comes down to it," Leigh explained of the new Big Bad.