A campaign to reinstate a popular teacher who was sacked for shooting a pupil has gained thousands of supporters.
Physics teacher Richard West was sacked by St Peter's Collegiate, in Wolverhampton, after he shot a pupil with a pellet gun while demonstrating the laws of physics.
The 53-year-old asked volunteers to hold sheets of paper out in front of them as targets to shoot in an attempt to make the subject more engaging.
But to Mr West's horror the pellet ricocheted off a table and into 17-year-old Ben Barlow's leg.
But the student is now calling for his school to give the teacher his job back, saying the incident, which happened in November, was an accident.
He said: "It was just a momentary pain, like when you walk into the corner of a table. I was left with just a scratch."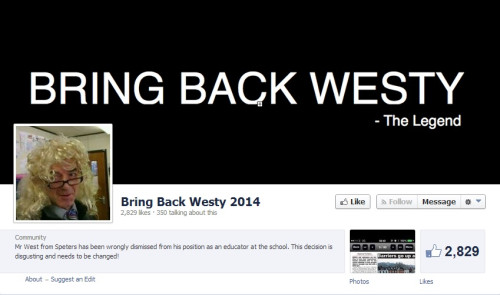 Supporters have rallied behind Mr West, setting up a Facebook group called Bring Back Westy 2014 that has attracted almost 3,000 likes - three times the number of students at St Peter's.
The group's opening message is: "Mr West from Speters [St Peter's] has been wrongly dismissed from his position as an educator at the school.
"This decision is disgusting and needs to be changed."
An online petition calling for his reinstatement has also been published and has nearly 1,500 signatures.
Staff at the Church of England Academy, which was given outstanding status by Ofsted in 2011 and 2012, are also believed to be behind Mr West, who has launched an appeal against the decision to have him removed.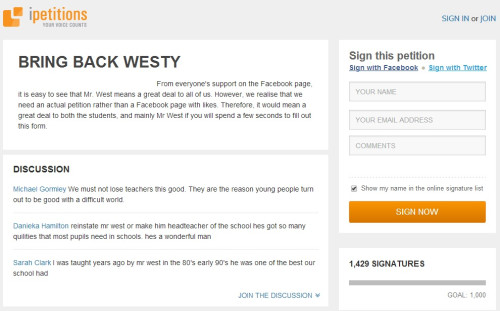 Former student Joe Inglefield was one of many supporters who wrote on the Facebook group's wall, saying: "He was without doubt the best teacher at that school, and cared more about the kids and their learning than anything else.
"He made learning fun and accessible for everyone, and was also a good friend, voice of wisdom, and one of the only reasons I made it through 6th form."
Parent Emma Steventon felt moved to leave a heartfelt message on the page, saying: "My view is he is a wonderful and inspirational teacher and person, who has seen my son through three years of the most terrible time of his life the death of his father, he has supported him in form for the past three years and my son misses this.
"I think the excellent things about Mr West should be noted as well. He needs to be reinstated the school needs him! Remember this was an accident."
Seven years ago Mr West was held up as a pioneer of a new brand of teaching to get youngsters interested in physics. His method included setting fun challenges for students and hosting an after-school animal club.
St Peter's Collegiate has said it would be inappropriate to comment during the appeal stage.