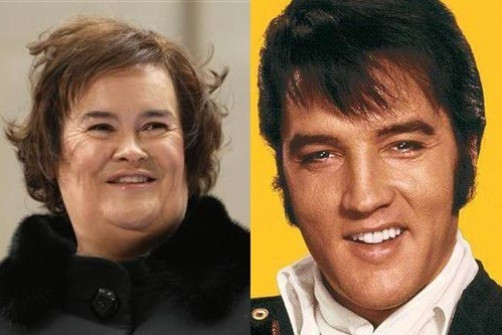 Susan Boyle has made history after becoming the first British artist to perform a duet posthumously with Elvis Presley.
The Britain's Got talent star's charity Christmas single is a rendition of the 1971 Christmas hit O Come All Ye Faithful featuring the King.
All royalties will be donated to her favourite charity, Save the Children.
"Dueting with Elvis was beyond my wildest dreams and now that this is able to raise money and help children it is simply fantastic," Boyle said.
"I remember his music being played in the house when I growing up and I used to love going to see some of his films."
The accompanying black-and-white video shows Elvis dancing alongside the singer.
Boyle, 52, and her mentor Simon Cowell are hoping that the track will climb to No 1.
In 2012, the Hillsborough charity single robbed X Factor winner James Arthur of the Christmas top spot.
"No one of all the people I've met has a bigger heart than you," Cowell told the Scottish singer in a pre-recorded message played at the launch event of the song.
Boyle joins a roster of big musical names including Celine Dion and Presley's daughter Lisa-Marie who have also used technology to bring the King back to life for a song.
O Come All Ye Faithful is from Boyle's fifth album and will be released on 8 December.