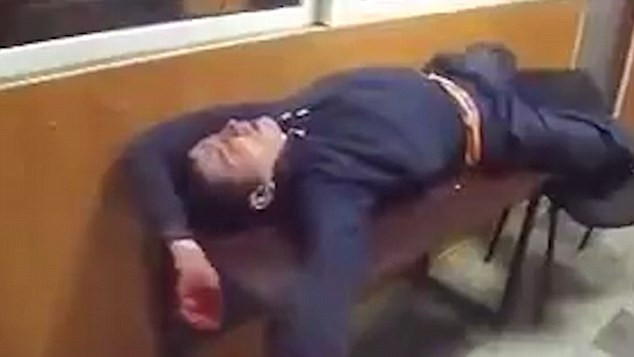 A crime suspect in the grip of a distressing GHB high was filmed at a Russian police station with off-camera officers heard laughing as he lurches around his cell. The man runs around in manic fashion, then is seen repeatedly slipping off his chair and smashing his head into a wall in the foyer area of a small cell block.
The unsettling clip begins with the man sliding off his seat and sinking to his knees before dragging himself back up and repeating the routine time and time again. He then tries to walk in a straight line but lurches from side to side, and tries to rest on top of a table. The whole video is accompanied by the sound of policemen laughing and exchanging comments in Russian. They do not come to his aid.
At one point the man runs across the room straight into one of the foyer's walls, making a dull thud as his head crashes into the concrete. Eventually, he is shoved back into his cell.
The video, featured on MailOnline, claims the man has taken GHB (gamma hydroxybutyrate). This is a central nervous system (CNS) depressant that is commonly referred to as a "club drug" or "date rape" drug.
According to the state-sponsored drug website Frank GHB is abused by teens and young adults at bars, parties, clubs and raves, and is often placed in alcoholic beverages. Euphoria, increased sex drive and tranquility are reported positive effects of GHB abuse. Negative effects include sweating, loss of consciousness, nausea, hallucinations, amnesia, and coma. It is particularly dangerous if mixed with alcohol.
It is not known what happened to the man after the clip ended or what he had been arrested for, but the effects of GHB can last between 1.5 to four hours.