The suspect accused of mercilessly opening fire on worshippers at a Quebec mosque has been charged with six counts of first-degree murder, court documents say. Alexandre Bissonnette is believed to have killed six people and injured an additional 18 people, some of whom remain in critical condition.
Canadian police detained Bissonnette, a French-Canadian national, who is believed to be in his 20s and from Quebec, after the shooting on Sunday (29 January) without a struggle. He could appear in court to be indicted as early as 31 January.
A gunman entered the mosque during evening prayers at the Quebec City Islamic Cultural Centre in the Sainte-Foy neighbourhood just before 8pm.
Sûreté du Québec police detained two men. One was arrested at the scene and detained as a witness before later being released. Another man called 911 from his car parked a short distance away, saying he was armed but was willing to cooperate with the police.
Witnesses say that a masked gunman entered the building and opened fire with around 39 worshippers believed to be inside at the time.
The victims were all identified men aged between 35 and 60. Of those shot, five people remain in hospital, with two of those in critical condition and the three others stable.
University of Quebec Hospital Centre spokeswoman Genevieve Dupuis said at least 14 others suffered minor injuries and were released.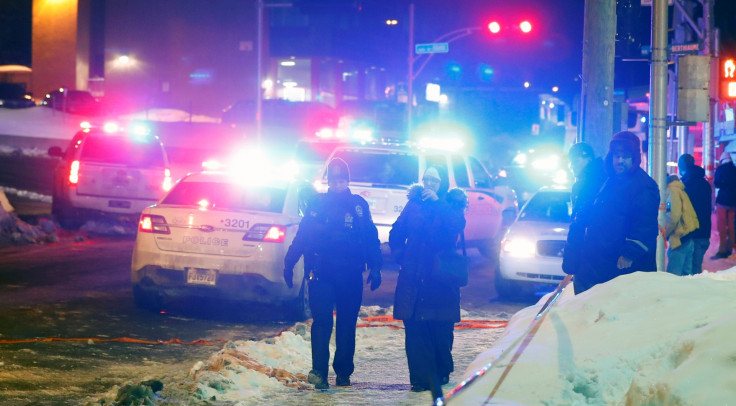 Police have not given a motivation for the shootings, but Global News Canada newspaper reported that Bissonnette's Facebook page included "likes" such the leader of France's far right party Marine Le Pen, the Israeli Defense Force, and Donald Trump.
Canadian Prime Minister Justin Trudeau called the shooting a "terrorist attack against all Muslims". He said: "We condemn this terrorist attack on Muslims in a centre of worship and refuge. It is heart-wrenching to see such senseless violence. Diversity is our strength, and religious tolerance is a value that we, as Canadians, hold dear."