Angry protests have erupted in the German city of Cologne after men of "North African and Arab" appearance were blamed for dozens of sex attacks on New Year's Eve. Among the thousands of protesters were women's rights campaigners and far-right nationalists from the anti-Muslim Pegida movement.
Many in the city and further afield in Germany are angry at the country's open-door migrant policy and the police response to the attacks has also been criticised. On 8 January, police chief Wolfgang Albers stepped down amid concerns that police failed to cope with number of assaults close to the famous Cologne Cathedral, and a leaked report surfacing that suggested officers on the scene were unaware of the scale of the assaults.
Protesters clashed with hundreds of riot police firing water cannons and tear gas, with rocks being thrown at police in return as the march attempted to move through the centre of the city. The crowd chanted and waved the German national flag as well some right-leaning symbols.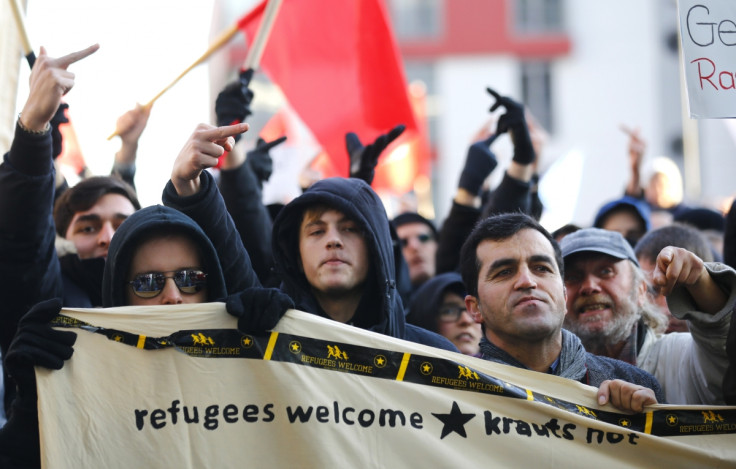 German police have also faced claims that they were attempting to cover up the extent of the attacks to avoid angry retribution attacks against migrants who have recently entered the country from Syria and elsewhere. As Pegida (Patriotic Europeans against the Islamisation of the West) members filed out of the main train station, a police cordon separated them from a left-wing counter-demonstration that was also taking place.
Of the 31 suspects arrested so far in the investigation, 18 of them are asylum seekers accused of crimes such as theft and assault. Of the people detained, nine were Algerian, eight Moroccan, five Iranian and four from Syria.
And on 9 January, German Chancellor Angela Merkel proposed changes in the law to make it easier to deport asylum-seekers who are convicted of committing crimes. She said: "When crimes are committed, and people place themselves outside the law there must be consequences."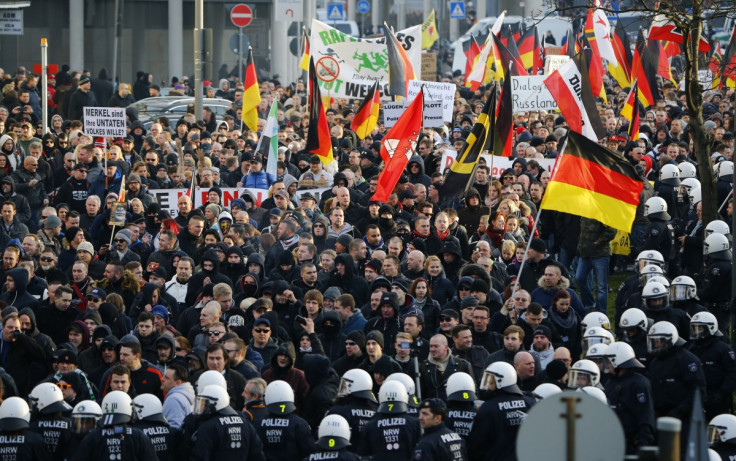 Currently, asylum seekers in Germany are only forcibly sent back to their country of origin if they have been sentenced to at least three years' imprisonment. This is on the proviso that they are not at risk in their countries of origin.
Pegida was founded in Dresden, eastern Germany in October 2014. A UK branch of the organisation has recently come into being with former EDL leader Tommy Robinson taking a leading role.
Robinson has joined the march in Cologne and has tweeted his frustration at Merkel's refugee policy saying: "So invite the problem on your shores, then say we need tougher laws to punish them? F**k sake, so frustrating."