Disturbing footage of five US Muslim girls being racially abused by a middle-aged white man in a Chicago-area restaurant has surfaced online.
The unidentified aggressor made offensive remarks about the teens' ethnic background and one girl's weight as finished a meal to celebrate Iftar, which marks the end of Ramadan fasting.
The clip was taken on Monday night (5 June) at a Pepe's Mexican restaurant in Hickory Hills, Illinois.
One of the girls, 17-year-old Osman, spoke to Yahoo News about the traumatic incident. She said: "We were walking past him on our way out of the restaurant.
He yelled: 'That girl could break a camel's back.' We stopped and said: 'Excuse me, sir, what did you just say?'"
The man replied:"You can go and beat it. If you don't like this country, leave."
"It's our home too. What do you mean leave?" one of the girl's responded.
"I just said she's a big one. What's the problem? Yeah, anything else?" the man continued.
One of the friend's told the man that he was "disgusting," which prompted him to get out of his seat and move towards the girls in an intimidating fashion.
"It looked like he was going to get physical, so we all started to walk," Osman said.
As the girls were leaving, he shouted: "F**king goddamn, camel-jacking mother f**king c***s."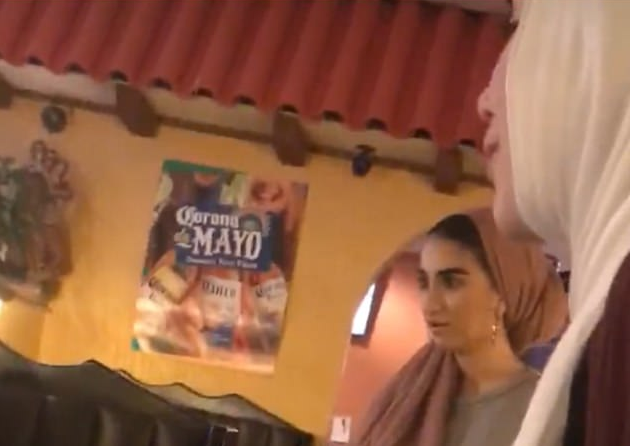 Osman's mother, Catherine Bronson, is a professor of Islamic Studies at the University of Notre Dame. She said: "We live in a very charged climate.
"I think the furore at the presidential level has sort of exacerbated this feeling and given a platform for those who might not have spoken out so aggressively."
Last month, a report by the Council for American-Islamic relations claimed there were 57% more anti-Islamic incidents in the US during 2016 compared with 2015.
Osman said she and all of her friends at the restaurant that day were from Chicago, adding: "Just because we have the headscarf on doesn't mean we're not from here."
"It's honestly very terrible and disgusting... I mean I was born here. I was raised here. Leave to where?"