A cyclone has battered Australia's east coast, killing three people, washing away houses, cutting power to more than 200,000 homes and stranding a cruise ship in mountainous seas. Winds of up to 135kph (85mph) uprooted trees, snapped power poles, overturned cars and tore down scaffolding.
The deluge on Monday (30 April) saw Sydney receive nearly a month's worth of rain in 24 hours, according to the Australian Bureau of Meteorology.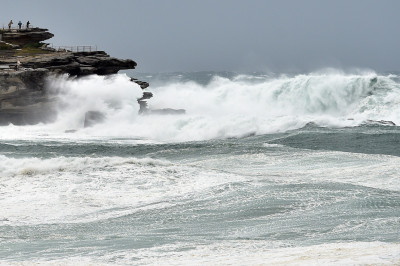 Huge waves, reaching 11.2m (33 ft) offshore, pounded beaches. Rail links to the north and south of Sydney were cut and many roads in Australia's largest city were flooded.
New South Wales (NSW) state premier Mike Baird said: "We have lost some homes. A number of roofs that have been taken off and we have also lost life. What our priority has to be at the moment is to get through the next few hours and protect life at every opportunity."
Transport authorities advised Sydney residents that all "non-essential travel" should be avoided until the weather eased. Some hospitals without power reportedly had to rely on generators and some 25 schools were closed.
The New South Wales State Emergency Service (SES) said it had received more than 3,000 calls for help and had to carry out 19 flood rescues, including one of an elderly woman in the town of Stroud, about 200km (125 miles) north of Sydney. The woman was in critical condition after she was rescued.
The storm whipped up giant seas that closed many beaches, including the world-famous Bondi Beach, which was stripped of tons of sand.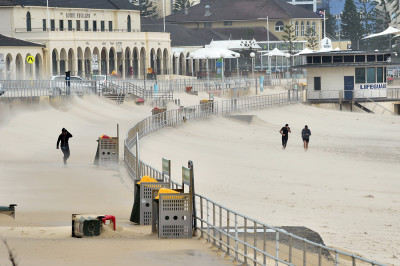 The wild weather closed parts of Sydney Harbour, forcing a cruise ship with some 2,500 passengers to wait off the coast, battered by big swells.
Residents of Sydney have used social media to share dramatic photos of the damage caused by the worst storm to hit New South Wales in eight years.