The outbreak of polio in Syria poses a threat to Europe, two experts on infectious diseases have said.
Martin Eichner and Stefan O'Brockmann, writing in The Lancet, say outbreaks of polio in Syria and Israel are a danger to neighbouring European countries where vaccination coverage is low.
The World Health Organisation announced last month a cluster of 22 acute flaccid paralysis cases in the Syrian Arab Republic. Of these, 10 cases of the wild poliovirus type 1 were confirmed. Most cases were in children below two years of age and had not been immunised.
Prior to the outbreak, polio had not been detected in the Syrian Arab Republic since 1999.
The civil war in Syria has been blamed for the outbreak, with immunisation rates falling from 91% to 68% in just two years. Since the conflict began, over a third of Syria's public hospitals have been destroyed and almost three quarters of health workers have fled in some parts of the war-torn country.
WHO said: "Larger-scale outbreak response across the Syrian Arab Republic and neighbouring countries is anticipated to begin in early November 2013, to last for at least six to eight months depending on the area and based on evolving epidemiology.
"Given the current situation in the Syrian Arab Republic, frequent population movements across the region and subnational immunity gaps in key areas, the risk of further international spread of wild poliovirus type 1 across the region is considered to be high."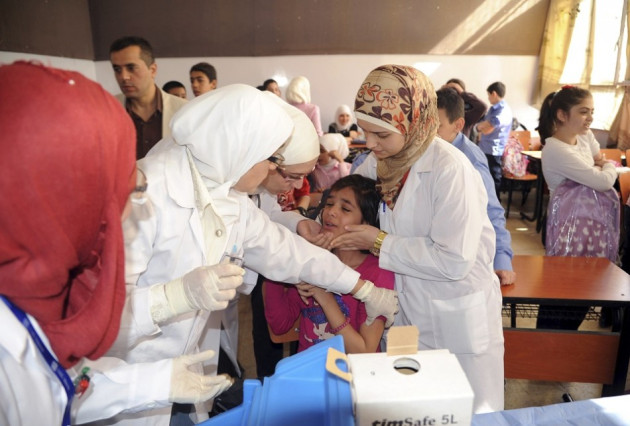 Eichner and O'Brockmann said Europe is at risk of a widespread polio outbreak from travellers unknowingly bringing the infection from Syria.
"Hundreds of thousands of people are fleeing Syria and seek refuge in neighbouring countries and Europe. Because only one in 200 unvaccinated individuals infected with [polio] will develop acute flaccid paralysis, infected individuals can spread the virus unrecognised."
The authors said that inactivated polio vaccine only partly prevents the infection, but reduces transmission and is highly effective in the prevention of acute flaccid paralysis - the most common sign of acute polio.
They said countries particularly at risk include Austria, Bosnia, Herzegovina and the Ukraine, as "herd immunity might be insufficient to prevent sustained transmission", adding that the European Centre for Disease Prevention and Control's recommendation of only vaccinating Syrian refugees will be "insufficient".
"It might take ... nearly one year of silent transmission before one acute flaccid paralysis case is identified and an outbreak is detected, although hundreds of individuals would carry the infection," they wrote.
"Vaccinating only Syrian refugees must be judged as insufficient; more comprehensive measures should be taken into consideration ... Routine screening of sewage for poliovirus has not been done in most European countries, but this intensified surveillance measure should be considered for settlements with large numbers of Syrian refugees."