The first images have been broadcast on Russian state television of military aircraft withdrawing from Hmeymim airbase on the Syria's Mediterranean coast. The preparation and withdrawal of the war planes follows the announcement on 15 March by Russian President Vladimir Putin that Moscow would be withdrawing the "main part" of Russian forces in Syria.
In an article accompanying the footage on the state news website vesti.ru, the outlet reported military personnel and technicians were now preparing for the 5,000km return journey to Russia. Su-25, Su-24 bombers and multi-purpose Su-34 are to be among the firs warplanes to be withdrawn.
Reuters reported Rossiya 24 also showed personnel loading materiel onto Ilyushin Il-76 heavy lift transport aircraft. Securing Hmeymim airbase as well as a naval installation also on the Mediterranean were the key objectives of Russia's intervention in Syria.
Rights to use the bases on the the Syrian coast had been guaranteed in perpetuity to the Kremlin by the Assad regime, which was on the point of collapse at the time of the Russian intervention in September 2015.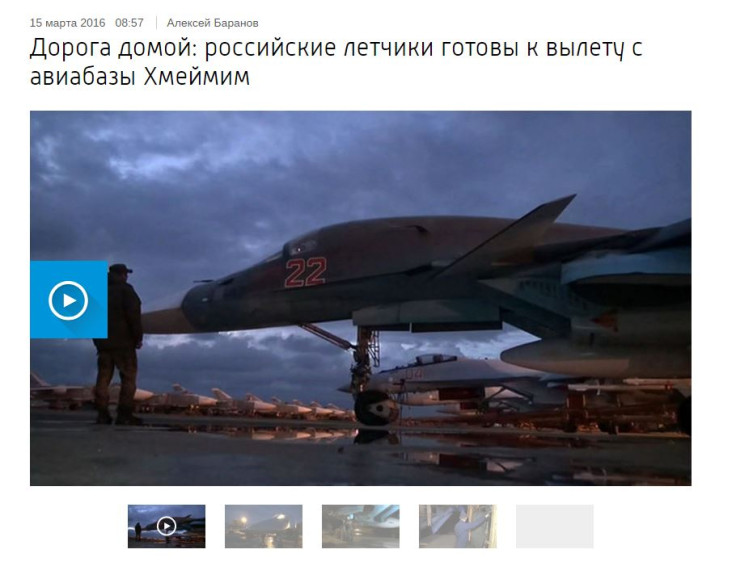 Putin said in his televised statement announcing the withdrawal that he believed "the task put before the defence ministry and Russian armed forces has, on the whole, been fulfilled".
Over the course of the intervention, the Russian military flew 9,000 sorties and destroyed "tens of thousands of targets" according to Russian state media. The US and Britain were both deeply critical of Russia's involvement in the conflict, as the Kremlin targeted moderate rebels, rather than focussing solely on territory held by Islamic State (Isis) and other radical groups.
The surprise withdrawal move by Moscow has been welcomed by both the sides of the Syrian conflict and world leaders.
"This will increase the pressure on the al-Assad regime to finally and seriously negotiate a peaceful political transition in Geneva," German Foreign Minister Frank-Walter Steinmeier said in a statement. The United Nations Security Council's President Ismael Abraao Gaspar Martins told reporters: "When we see forces withdrawing, it means war is taking a different step. So that's good."
The withdrawal comes as the Syrian government and opposition meet in Geneva for the second day of restarted "proximity talks". The meetings between opposing parties in the conflict and mediators faltered in February after an upswing in violence.
The talks came to be seen as a cover for a Russian-backed assault by Damascus, which allowed the Syrian government to retake crucial areas held by rebels since 2012.