At least 5,000 people, including many civilians, were killed in Syria in August 2015 according to human rights monitors. The UK-based Syrian Observatory for Human Rights (SOHR) tallied up the total from sources within the country and suspects the true total is far higher.
According to the SOHR the death toll includes 1,205 civilians, 885 Syrian combatants, 1,165 non-Syrian combatants, 3 defected soldiers, 684 Syrian army soldiers, 684 militiamen, 36 Hezbollah, 64 pro-regime Shiite and 10 unidentified victims seen on footage and photographs. Of the civilians around 200 were killed by Isis, 1,000 by forces loyal to President Assad and 43 in coalition airstrikes. A total of 252 children were killed in August.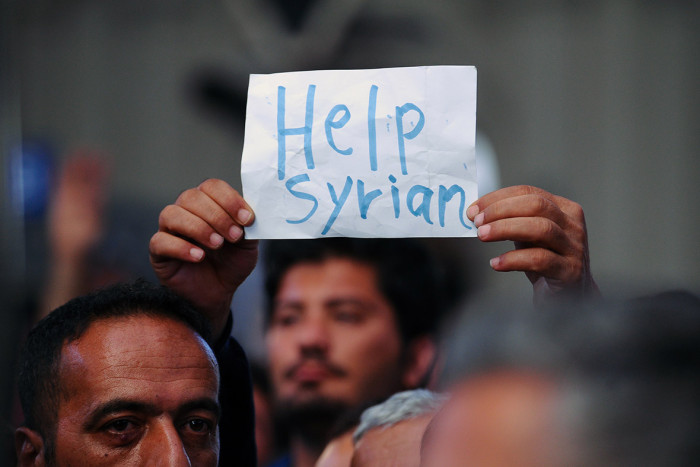 However the SOHR calculates the true total is far higher: "We in the Syrian Observatory for Human Rights estimates the real number of non-Syrian casualties from the IS, Jabhat al- Nusra, Islamic factions, Jund Al-Aqsa battalion and pro-regime militants is approximately 700 soldiers and fighters more than the documented number because of reticence about casualties by all parties, the difficulties of reaching to the outback and the difficulties to investigate about those who have died inside the regime or IS jails."
In recent days much of the focus has been on the destruction of the ancient ruins at Palmyra, but the SOHR figures are a reminder that the cost in terms of human lives is huge. Some 230,000 people have been killed in Syria since the start of the war in 2011.
The statistics also perhaps demonstrate why so many ordinary Syrians resort to desperate lengths to find safety in the West. Germany has said all Syrians who reach its border will be given th eopportunity to stay and apply for asylum. Chancellor Angela Merkel has criticised other European nations for not doing as much to help in what has been called the worst migrant crisis since World War II.