A Syrian refugee family in Canada has named their newborn son after Prime Minister Justin Trudeau, whose refugee policy allowed them to have a new life away from the war-torn Syria.
Afraa and Muhammad Bilan, originally from Damascus in Syria, have tried to show their thankfulness towards the Canadian PM through this act.
"We love this man, we appreciate him. He helped a lot of refugees. He's the reason we are in Canada," Afraa told the Star.
Baby Justin Trudeau Adam Bilan was born on Thursday, 4 May, in his parents' new city of Calgary. His parents came to Canada in February 2016 with their two eldest children 4-year-old Naya and 3-year-old Nael.
According to reports, before moving to Canada, 29-year-old Muhammad was working as a barber in Damascus but he was once targeted by the Syrian army and detained also. Though, he was released later but he came to know that the authorities were looking for him again. It was also found that he could face further detention, so the family decided to leave their homeland.
They came to know that Canada was starting to take in Syrian refugees after Prime Minister Trudeau took office. They jumped at the chance and came to Montreal – the largest city in Canada's Québec province.
Later, the family was moved to Calgary, in the western province of Alberta. "Canada is much more safe - there's no war, nothing.
"Everything is different; everything is good - nothing like Syria," Afraa Bilan told the BBC and also admitted that initially it was tough for them to adjust in another country, among unknown people and different language.
However, she said that she was thankful to the premier to be here and added that she now speaks fluent English and Muhammad works part-time in a grocery shop.
Afraa also said that she was happy to welcome their newborn baby in such a peaceful environment. "He's the first Canadian. He got his citizenship before us!" she added.
The couple also hope that their son would someday meet with his rather more famous namesake.
"He is a really nice man. He helped us a lot. This was a small thank you for bringing us to Canada. We want to thank him and all the Canadian people," Afraa said.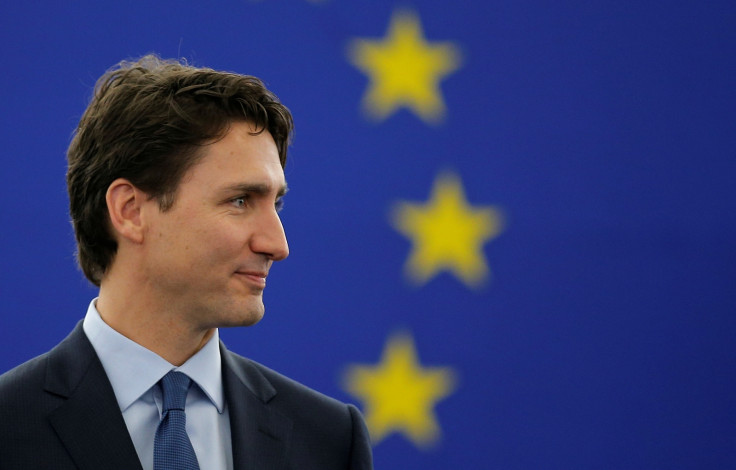 According to government data, since 4 November 2015, Trudeau's refugee policy has led over 40,000 refugees to enter the country. Even after US President Donald Trump's ban on migration from seven Muslim-majority countries, the Canadian PM has continued to fulfil his commitment to help "those fleeing persecution, terror & war".