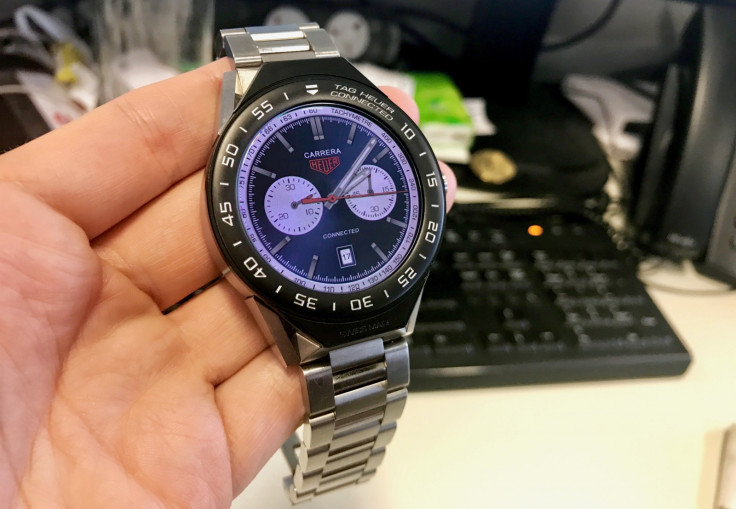 Smartwatches are difficult to make sense of. At their heart they only offer a minor upgrade in convenience over a smartphone, in that notifications are buzzed to your wrist, which is likely more accessible than the phone in your pocket. They also log exercise, but dedicated fitness trackers are cheaper, smaller and often do a better job.
So what happens when a company doesn't put its smartwatch's smarts front-and-centre? What if the product is made to appeal to those who already like watches, not those looking for their next gadget? And what if instead of being merely "made", the watch is "Swiss Made"? That takes us away from the Apple Watch and Samsung Gear S range, and towards the Tag Heuer Connected Modular 45.
To save your eyes and our fingers we won't be using the full name again, but it should suffice to say that the Modular 45 is a second-generation smartwatch from Tag Heuer which replaces its first, the Connected.
Modularity brings the biggest physical change for the new watch. This means the strap can be easily removed and replaced with one of a different style, and the watch can be bought with a variety of bezel and lug colours. Also, being a smartwatch, the face can be customised almost to your heart's content with different styles, colours and ''complications'' – the small dials on the face.
There are 56 different versions of the watch, but with customisable straps and lugs Tag says there are over 4,000 configurations to choose from. The modular ecosystem Tag has built around the watch seems well thought-out, but we worry that the company will introduce drastic changes in the coming years, making the current watch incompatible with newer accessories – or, worse still, pull an LG and ditch the modular dreams entirely after just a year.
Here we have the titanium strap, paired with a titanium and black ceramic case; it is priced at £1,950. The range starts at £1,450 for the same case with a rubber strap, and tops out at £5,700 for a diamond-covered bezel and case with a black calfskin strap. Despite the good lucks, we were surprised at how quickly scratches began to appear on the watch's body and titanium strap. Some were left by the previous reviewer, but others arrived during our fortnight with the Modular and to be honest we don't know what caused them.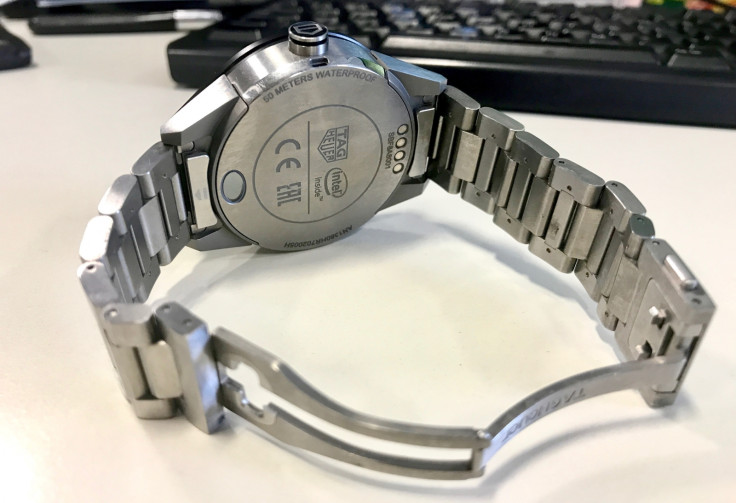 Customers not content with spending £2,000 on their Connected can even purchase a mechanical movement to fix the strap to when they fancy a traditional watch. For now, mechanical options include the cases of the £1,600 Tag Calibre 5 automatic and £12,000 Calibre Heuer-02T tourbillon, with more promised in the near future.
The Modular 45 runs Google's new Android Wear 2.0 operating system and is powered by an Intel Atom processor. It has 512MB of RAM and there is 4GB of internal storage for listening to music through Bluetooth headphones. The screen is 35.4mm (1.39in) wide, has a resolution of 400x400, a pixel density of 287 per inch, and is protected by scratch-resistant sapphire.
At 45mm wide (hence the name) and 13.75mm thick, this watch is considerably chunkier than the mechanical ones we usually wear, but after a couple of days we grew used to it. For comparison, the Apple Watch Series 2 is 11.4mm thick and up to 42mm wide. Tag boss Jean-Claude Biver says a 39.5mm unisex model will be launched in October.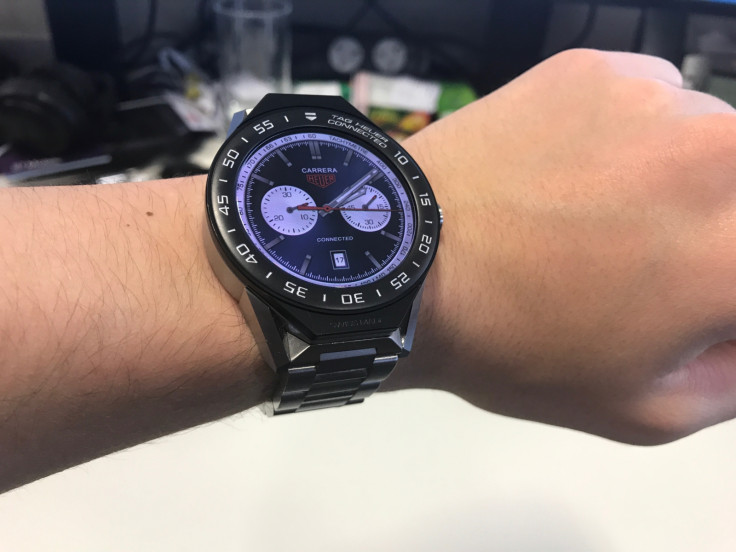 The Modular 45 is water resistant to 50 metres, has GPS for logging walking and running (but no heart rate monitor), NFC for making contactless payments, Bluetooth for connecting to your Android or iPhone, and Wi-Fi. There is no speaker, so forget about taking calls by talking into your wrist.
Design-wise, the watch sticks close to both the original Connected and Tag's house style. It's a large timepiece which feels a little bulkier than its predecessor, and comes with a set of configurable watch faces which each mimic those of Tag's other timepieces. Each face simplifies and turns to black-and-white when the watch isn't in use, preserving battery but ensuring the time is always visible.
We always got a full day out of the Modular 45 without reaching for the charger, and even stumbled through to the end of day two on a couple of occasions, but by that point a power-saving mode had kicked in, removing the always-on watch face until we pressed the crown to reveal the time.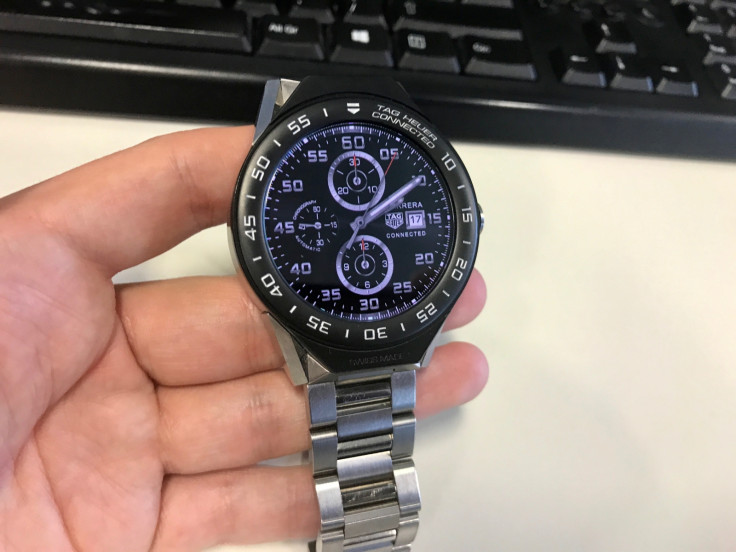 Google made many changes for its second-generation smartwatch operating system, but the fundamentals remain the same – and the same across all smartwatches, no matter who the manufacturer is.
Apart from checking the time, notifications are likely to be your most commonly-used smartwatch feature; just as Facebook messages, emails and news alerts buzz your phone, they arrive with a vibration on the Tag's display.
In all honesty, Android Wear is by far the weakest part of the Tag Connected. Google's big update just wasn't big enough and has left smartwatch manufacturers to deal with an inconsistent user interface and a limited app selection. Thankfully, the Tag name and design make us more inclined to forget about Android Wear and instead focus on the Modular 45 as a highly customisable Swiss watch which just happens to have a digital display instead of a mechanical face – one which can deliver useful notifications, but isn't a tech-heavy rival to the Apple Watch.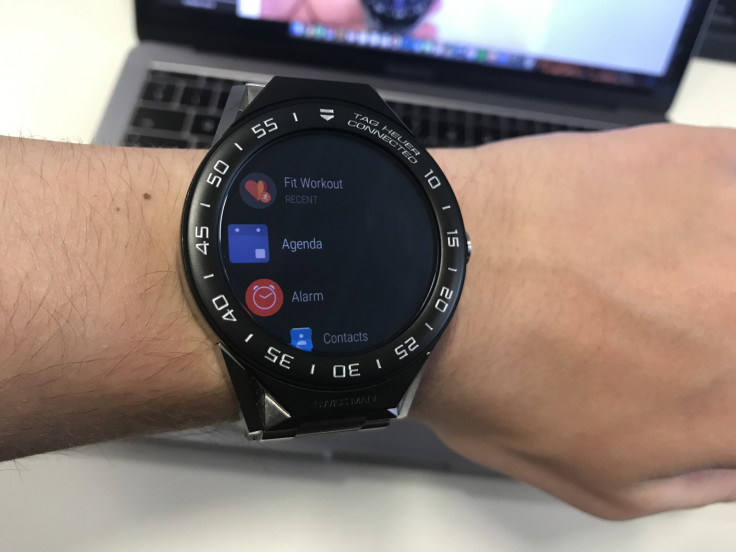 We quickly become uninterested in making payments with the watch, or checking the weather, tracking exercise and using Google Assistant. After a couple of days we stopped looking at the app list entirely and instead reverted to simply enjoying the fact we had a Tag Heuer on our wrist.
That's fine here, because owning a Tag and enjoying the customisation are the main reasons for buying the Modular 45. For companies like LG, who make far more affordable Android Wear watches, but with none of Tag's brand heritage, we feel Google has a lot to answer for. Take away the desirable name, modularity and physical design, and there isn't much left.
Our verdict
Tag Heuer Connected Modular 45
The Tag Heuer Connected Modular 45 is closer to smart watch than smartwatch. It has the handsome design, Swiss build quality and brand heritage to distract from its so-so Android software.
Consumers should buy this watch primarily because they want a customisable Tag Heuer with smartphone-style notifications, not because they want a smartwatch. The Modular 45: A rare case of form over function being the right way to go.