Samsung Galaxy S8 review: More than just a pretty face
We review the smartphone of the moment to find out if it can overcome the mighty iPhone 7.
It is all but impossible to measure the weight bearing down on Samsung's shoulders as it launches the Galaxy S8. Less than a year after the Note 7 arrived to a breathless fanfare before literally bursting into flames and being killed off on the very day it should have arrived in UK shops, Samsung has picked itself up, dusted itself down and carried on.
But it has done much more than that with the Galaxy S8. In a year where Apple held back with the iPhone 7, recycling the same design for a record third time, Samsung had the perfect opportunity to take a massive step forward, both recovering from the Note 7 disaster and overtaking Apple while it was caught dawdling.
The Galaxy S8 does exactly that. Not only does it restore faith in the Samsung brand (as long as the batteries behave themselves, of course) but it pounces on Apple like never before, with a smartphone which is as gorgeous as it is powerful and practical.
Chiefly responsible for our praise of the S8 is its Infinity Display, which gets its shape from Samsung using a new 18.5:9 aspect ratio, making it taller and narrower than what we have become used to with 16:9 smartphone. At first the S8 and its 5.8in screen looks difficult to hold comfortably in one hand, but on first gripping the phone you realise this isn't the case.
The S8 is simply a pleasing gadget to hold; the weight and balance are perfect, the edges are curved just so and it actually feels more secure in the hand than the iPhone 7 Plus we are used to.
Incidentally, that phone feels chunky and old-fashioned after just a few moment with the S8. Make no mistake, this is a pivotal moment in the history of the smartphone.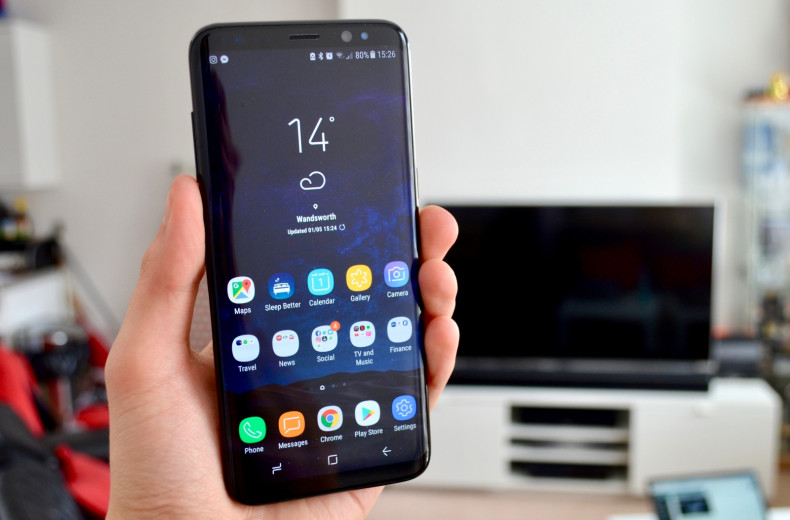 A test we commonly use with new products is how often we pick it up purely for inspection. Products like the GoPro Session 5 and DJI Phantom drone range score highly here, and now so too does the Galaxy S8. The curved screen and new, interesting shape turn it from a phone into something we want to pick up, touch, hold and examine far more than most other handsets.
The glossy finish of our Midnight Black review unit no doubt helps here, turning the S8 into a stealthy sliver of desirability.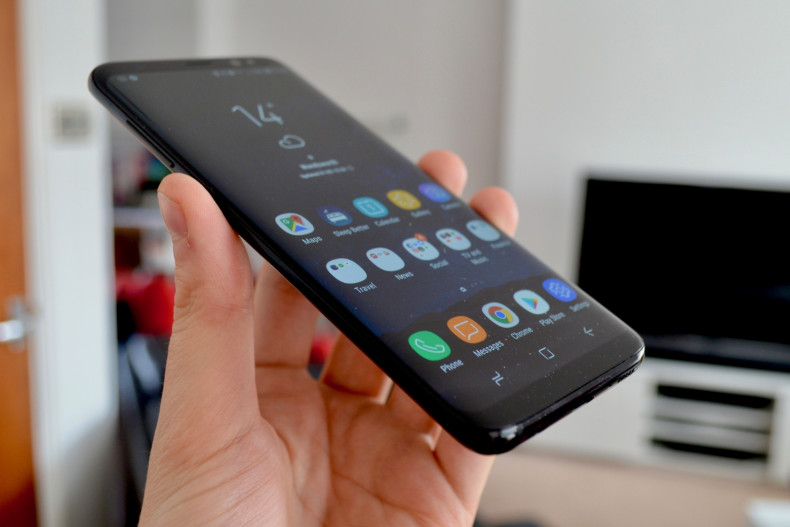 But what happens when we dig beneath the beautiful exterior? Samsung has fitted all versions of the S8 with 64GB of storage as standard and they all have a microSD card slot to increase this by up to 256GB. There is also wireless charging (although the charging pad is sold separately), an octa-core processor, 4GB of RAM and waterproofing to 1.5m for 30 minutes.
The performance on most flagship smartphones has shifted from a crucial factor to something so rarely in short supply you almost forget that it matters. Nothing really phases the S8; nothing slows it down, or causes it to heat up unexpectedly. To steal Apple's old tag line, it just works.
Less impressive is the fingerprint sensor. Relocated due to the taller screen preventing space for a physical home button, the sensor is now on the back, next to the 16-megapixel camera. LG, Google and other have offered rear-mounted print readers for some time and without too much trouble, but the S8's is a little too high, a little too small, and often tricky to find with an outstretched index finger.Alternatively, the S8 can be unlocked with the same iris scanner as fitted to the Note 7. It works reliably and very quickly, but requires the phone to be held quite close to your face, and struggles in difficult lighting conditions, and if you wear glasses or contacts. If biometrics aren't your thing, you can use a PIN, pattern or password as normal.
Alternatively, the S8 can be unlocked with the same iris scanner as fitted to the Note 7. It works reliably and very quickly, but requires the phone to be held quite close to your face, and struggles in difficult lighting conditions, and if you wear glasses or contacts. If biometrics aren't your thing, you can use a PIN, pattern or password as normal.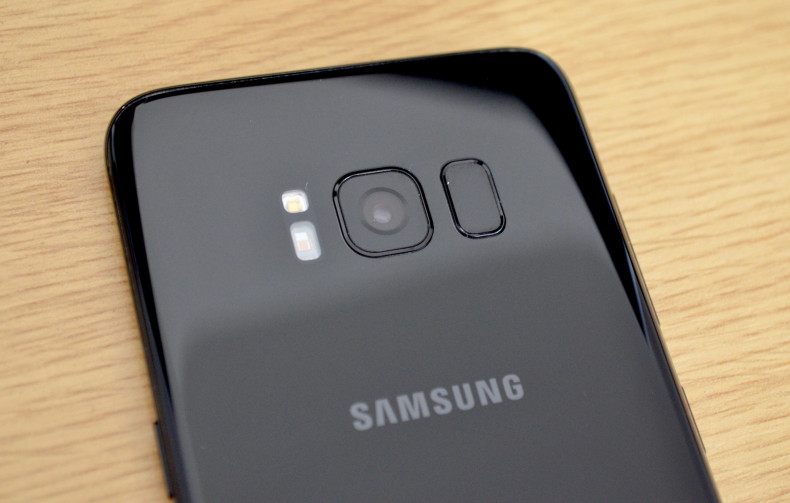 Samsung has taken a leaf from Apple's book for the new on-screen home button. Instead of physically clicking when pressed, the virtual button offers up a haptic 'click' to your fingertip. It doesn't feel as much like a real click as on the iPhone, but works well enough all the same. No matter what's going on on the screen (or if the phone is locked), a press of the bottom-middle does exactly the same as home button of last year's S7.
Smartphone photography has always been a Samsung strongpoint, and the S8 is no exception. Although the rear sensor offers the same 12-megapixel resolution as the S7, it is still an excellent camera with optical image stabilisation and the ability to take some truly great photos and Ultra HD video. Around the front, Samsung has upped the selfie camera from 5MP on the S7 to 8MP here.
The Galaxy S8 runs Google's Android 7 Nougat with Samsung's own TouchWiz user interface over the top. We have criticised TouchWiz in the past but here Samsung has created an attractive, simple and easy-to-use system. The software feels less cluttered than ever, with Samsung's own apps tidied away into their own folder and a search function in the Settings app makes it easier to find the option you're looking for.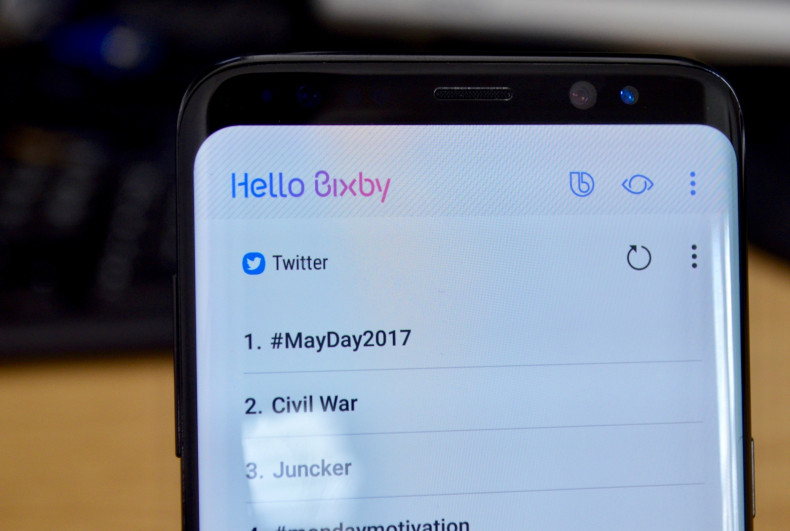 New for the S8 is Bixby, Samsung's answer to Siri, Alexa and Google Assistant. Bixby has its own dedicated button for launching when the phone is locked, or you can find it by swiping to the left from the home screen. Unfortunately, Samsung wasn't able to finish the voice side of Bixby before the S8 went on sale, so for now functionality is limited. The Bixby page includes calendar events weather, recent photos, reminders, an activity report, news headlines and other use tidbits of information.
Open the camera and a new Bixby Vision icon appears, where you can show the phone an object and it will attempt to find it for sale online – or photograph a famous landmark and Bixby will tell you about it. This works well enough, but is hardly a feature to write home about given apps from Google and Amazon have done this for some time. We look forward to trying Bixby's voice function once it becomes available in the coming weeks.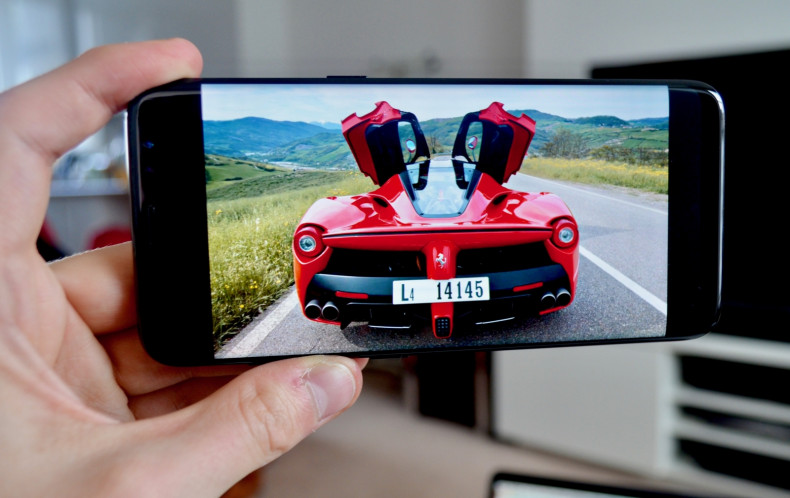 Battery life can vary quite significantly depending on how you use the S8. Gentle use will see a solid day-and-a-half, but average to heavy use will see a great deal less. We often found the battery dipping below 70% by lunchtime and reaching single figures by 10:30 pm.
That being said, there are two levels of battery-saving which can be activated. The first decreases screen brightness by 10%, caps the resolution to Full HD+, limits the processor during light tasks and switches off the always-on display. This added a reassuring three hours to each day without any major loss in features or productivity.
The Samsung Galaxy S8 is a landmark moment for the smartphone. In making the seemingly simple decision to stretch the screen, Samsung has created a handset which finally breaks the smartphone mould and ends years of design stagnation. LG has gone down a similar path with the G6, but Samsung's take is more compact and simply more attractive.
You could argue that a smartphone's aesthetics shouldn't matter, but when cameras and processors have become almost universally good at this price point, looks really do matter.
Bixby is fairly pointless for now, given its lack of voice control, and the fingerprint reader is awkwardly placed. But these are relatively small complaints for a phone which excels everywhere else.