Police officers in Ohio who shot and killed a 12-year-old boy, who was holding what turned out to be a pellet gun, will not face charges, it has been announced. Tamir Rice was shot dead in a park in Cleveland by officer Timothy Loehmann, who approached him with fellow officer Frank Garmback after being informed about a black male waving a gun.
Officers Loehmann and Garmback told an enquiry the fake gun looked real and that they warned the boy to put up his hands three times. As the boy pulled the gun from his waistband he was shot twice and died in an incident captured on video. The death led to claims by civil rights campaigners such as "Black Lives Matter" that the death was another example of police brutality against black people, such as the death of Michael Brown which provoked the Ferguson riots.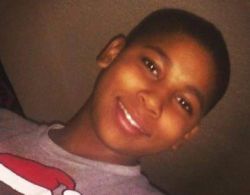 However, Ohio's grand jury said it was reasonable to assume the two officers feared for their lives and an FBI-enhanced version of the video appeared to show the boy remove the toy gun from his waistband before being shot. Prosecutor Tim McGinty said: "The state must be able to show that the officers acted outside the constitutional boundaries set forth by the Supreme Court of these United States. Simply put: Given this perfect storm of human error, mistakes and communications by all involved that day, the evidence did not indicate criminal conduct by police."
In a statement released through an attorney, Rice's family said they were saddened, disappointed but not surprised by the decision. "It has been clear for months now that Cuyahoga County prosecutor Timothy McGinty was abusing and manipulating the grand jury process to orchestrate a vote against indictment," said the statement.
"The Rice family is grateful for all the community support they have received and urges people who want to express their disappointment with how Prosecutor McGinty has handled this process to do so peacefully and democratically," continued the statement. "We renew our request that the Department of Justice step in to conduct a real investigation into this tragic shooting of a 12-year-old child."