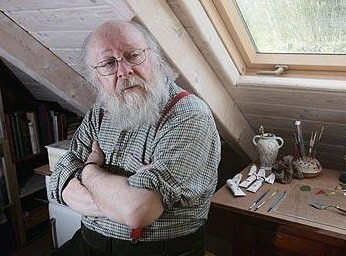 The Tate has removed more than 30 works of art by Graham Ovenden from public view after he was convicted for child sex offences.
The 34 prints, which included images of naked girls, have been removed from the Tate's website and will no longer be available to be viewed by appointment at the Tate Britain.
Ovenden, 70, was found guilty of six charges of indecency with a child and one count of indecent assault between 1972 and 1985.
A Tate spokesman said: "Graham Ovenden is an artist of note, whose work has been widely shown over more than 40 years. However, following his conviction at Truro Crown Court, Tate is seeking further information and is reviewing the online presentation of those prints by him that are held in the national collection.
"Until this review is complete, the images will not be available online and the works will not be available to view by appointment."
The pieces were given to the Tate in 1975 as part of a larger collection of 3,000 pictures. The pieces date from 1970-75 and contain several prints of naked young girls.
Ovenden denied the charges against him and having a sexual interest in children.
He told police he had a "major reputation" for having created "some of the best portraits of children in the last 200 years".
During the trial, Ovenden argued his pictures of children in various states of undress were not indecent and he had a "moral obligation" to capture them.
The jury rejected Ovenden's claims and said he photographed girls as a ruse to commit indecent acts on them.
Ovenden is on bail awaiting sentencing.
READ:
Artist Graham Ovenden Found Guilty of Child Sex Offences