Kim Kardashian is being spammed by Taylor Swift's fans after sharing a throwback picture from the exhibit Kanye West held in celebration for the music video Famous.
For those who don't remember, the video featured waxworks of notable celebrities lying naked in a huge white bed, with West in the middle.
The song itself offended Swift since it included a lyric about West having sex with her. Despite him claiming she had approved the lyric, Swift denied it.
Adding further fuel to the fire, West's video for the song included a naked waxwork of her without permission, which didn't go down too well.
So when Kardashian Instagrammed a snap of herself at the exhibit last year, Swift's fans were less than impressed, with multiple people leaving endless rat emojis in the comments section.
The rats are a likely replacement for the snake emoji, which Kardashian blocked from her feed after both she and swift were plagued with them in their Instagram comments amid the high-profile feud.
Others believe fans are using the rat emoji since snakes – which is what Swift was heavily referred as during the row – eat rats.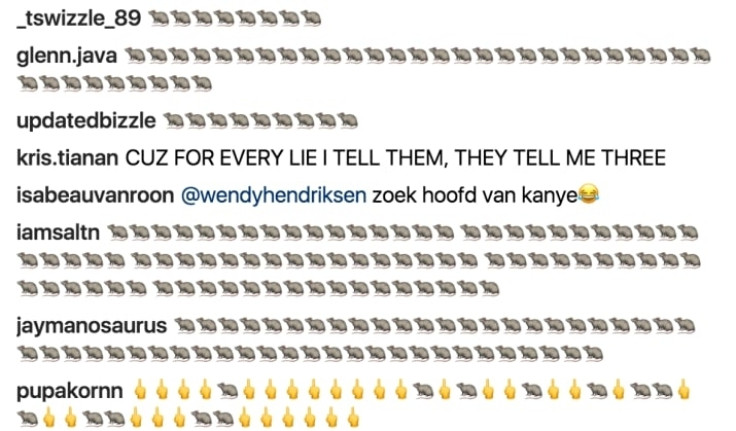 Another user said: "people think she is reigniting the beef with Taylor, so because Taylor has claimed the snake they are calling Kim a rat (which snakes eat) it's a bit silly tbh."
The 37-year-old reality television star's latest post may be a response to Swift's new album, Reputation, which refers to their fall out in several songs.
She appears to address the feud head on in This is Why We Can't Have Nice Things, with one lyric reading: "And therein lies the issue/ Friends don't try to trick you/ Get you on the phone and mind-twist you.
This is referring to the audio recording Kardashian leaked on Snapchat, which heard Swift appearing to approve West's lyrics for Famous.
Swift has chosen to ignore rat-gate, while the online vermin has since spread to several other pictures on Kardashian's feed.