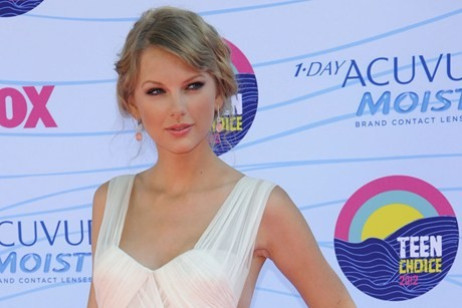 Taylor Swift has reignited speculation that she and Ed Sheeran are more than friends after revealing that she would date a ginger-haired man.
The singer is rumoured to have become very close to the Yorkshire-born singer while working on their collaborative track, Everything Has Changed, which features on her latest album.
During a recent appearance on Alan Carr: Chatty Man, the We Are Never Ever Getting Back Together hitmaker admitted that she would consider getting romantically involved with a flame-locked fella. She even confessed to having a secret crush on Harry Potter star Rupert Grint.
''I like people with red hair, I would do a ginger. I like Rupert Grint, the guy from the 'Harry Potter' films," she said.
The 22-year-old beauty also expressed her delight at finding out Sheeran had got a new tattoo of her album title, Red, on his arm.
Talking about the bold tribute, she said "He has a tattoo on his arm and it says 'Red', which is after my new album. I think that is the coolest thing ever. I love that. I mean, it's permanent.''
Swift, who previously dated actor Taylor Lautner and singer Joe Jonas, has been linked to a string of men since her split from boyfriend Conor Kennedy in October, including One Direction star Harry Styles.
Despite being one of the world's most sought-after young women, Swift believes its important that girls do not to build their lives around their men.
"My advice about guys has to do with how you prioritise them," she said. "They can be a part of your life but never let the guy BE your life. They can live in your world, but never make the guy your world."