Taylor Swift Snapchat leak: Singer allegedly files police report against Kanye West
Swift and West have been feuding for months after Heartless star released controversial song Famous.
Kanye West has allegedly been threatened by Taylor Swift with legal action after Kim Kardashian leaked a secret recording of her husband having a conversation with Swift about the song Famous on the 17 July.
TMZ reports that an obtained copy of a letter sent in February, shows Swift's lawyer demanding that under California law, anyone who secretly records a telephone conversation with someone in the state is committing a criminal offense and a felony.
The celebrity website says sources say that the pop-princess had no indication that she was on speaker, when speaking to the Famous rapper. The 26-year-old singer reportedly believes that West has violated criminal law by not asking for permission to record her and is allegedly still deciding on whether to file the police report.
Swift is said to want the full conversation released, since the famous Kardashian was very selective on what she released on her Snapchat. The singer's representatives allegedly claimed that the Yeezy star never asked for Swifts approval, which is shown on the video. A source told TMZ that West knew that if the singer heard the song before being released, she would not have approved.
IBTimes UK has contacted the representatives of Swift and are waiting for comment.
The Feud between Yeezy and the Bad Blood singer
Swift and West have been in an on-going feud for months after the father-of-two released his controversial song Famous, which featured inappropriate lyrics about the pop-princess. The rapper said "I feel like me and Taylor might still have sex. Why? I made that b****h famous."
The rapper claimed that he had consulted Swift about referencing her in the track, which the Bad Blood singer claims she didn't agree too. A spokesperson for the singer said: "Kanye did not call for approval, but to ask Taylor to release his single Famous on her Twitter account.
She declined and cautioned him about releasing a song with such a strong misogynistic message. Taylor was never made aware of the actual lyric, 'I made that b****h famous.'"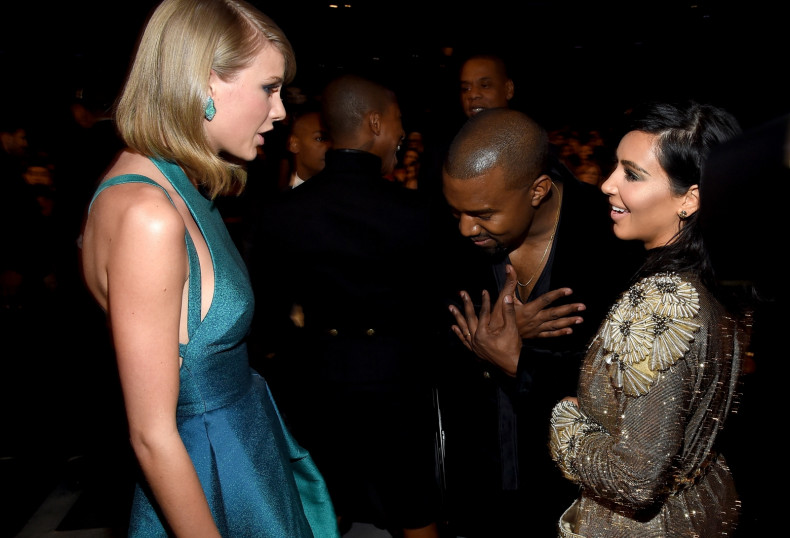 In an interview with GQ magazine (16 June), the rapper's wife also claimed that the Bad Blood star did approve the lyrics and also agreed to laugh about the song at the Grammy awards in February. Swift's team then released a statement, which read: "Kanye West and Taylor only spoke once on the phone while she was on vacation with her family in January of 2016 and they have never spoken since."
In a recent video, which Kim leaked on snapchat, West tells her about the "I feel like me and Taylor might still have sex" lyric, to which she responds: "Go with whatever line you think is better. It's obviously really tongue-in-cheek either way... And I really appreciate you telling me about it. That's really nice."