A teacher in the US was handcuffed and roughly escorted off campus after she protested against pay rises for the school's leadership team.
Deyshia Hargrave, of Louisiana, said all teachers under the Vermilion Parish School System were dealt a "slap in the face" with plans for a $30,000 (£28,000) pay rise for superintendent Jerome Puyau. That rise was "basically taking money out of our (teachers') pockets", she said.
After questioning the board, Hargrave was calmly escorted out of the room while exchanging words with the leadership team and police officer. Video shot at the event and broadcast by KATC showed a policeman putting her into handcuffs in the hall and forcing her to the ground.
"Stop resisting", the officer can be heard saying. "I am not. You just pushed me to the floor. I am way smaller than you," Hargrave replied.
Puyau called the police shortly afterwards to say that the school authorities would not be pressing charges.
Puyau ultimately received the pay increase and had his contract lengthened to 2021. He is now being paid $140,000 per year.
The average teacher in the US earns $58,000, according to US News.
"For a superintendent or any person in a position of leadership getting any type of raise, I feel like it's a slap in the face for teachers, cafeteria workers and any other support staff we have," Hargrave said, according to the Daily Mail.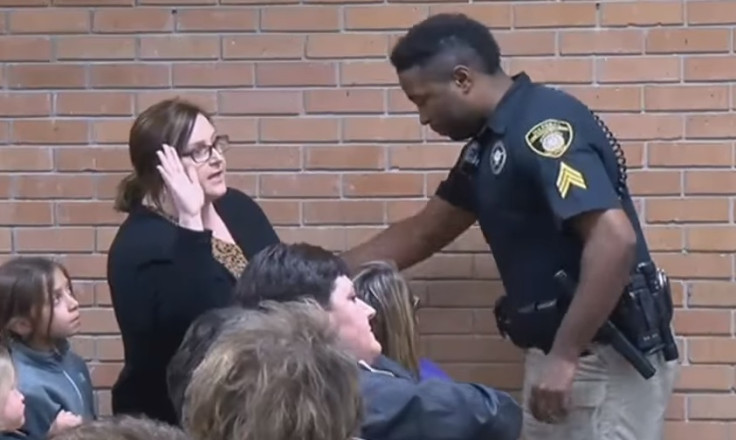 "We work very hard with very little to maintain the salaries we have. I don't care if the performance targets are met - you're making our jobs more difficult. We're meeting those goals, while someone in that position is getting a raise? It's a sad, sad day to be a teacher.
"When I first started teaching there were 20 kids in a class and now there are 29 kids in a class, and we have not been given raises. How are you going to take that? It's basically taking it out of our pockets."
Hargrave teaches English and arts at Rene A Rost Middle School.