Teen Wolf season 6 episode 8 live online: Scott, Lydia and Malia will storm the rift to rescue Stiles
Teen Wolf season 6 airs every Tuesday at 9pm EST on MTV Network.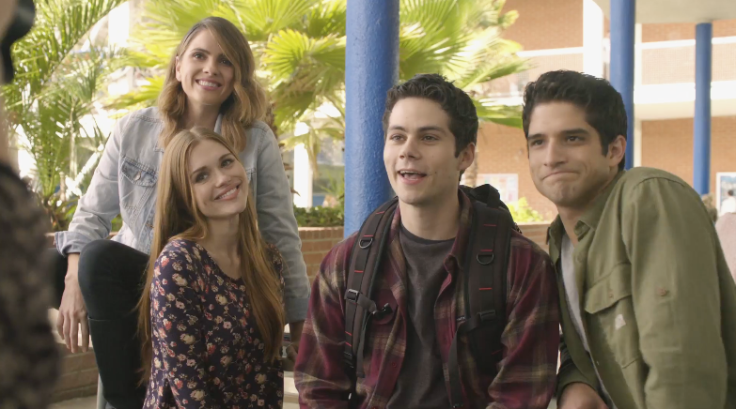 The fight to bring back Stiles from the Ghost Riders' magical cave will get intense in the upcoming chapter of Teen Wolf season 6. Episode 8, titled Blitzkrieg, will air this Tuesday, 17 January at 9pm EST on MTV Network.
The official synopsis reads as follows:
Scott, Lydia and Malia decide to storm the rift and rescue Stiles; Liam, Hayden and Mason make a deal with Theo to learn Douglas' plan
Click here to watch the episode online on MTV's official website. You can live stream the episode by clicking here (only in the US).
The promo for the upcoming episode shows, Mason vowing to get Corey back and Scott saying, "We have to remember everything." Sheriff Stilinksli finally believes that he has a son and tells his wife Claudia, "Everything Lydia has been trying to tell us is all true. I have a son."
Later, Scott is seen fighting a Ghost Rider with Malia as the Alpha utters, "As long as somebody is left in Beacon Hills, the wild hunt cannot move on."
In the previous episode, Scott and Malia refused to trust Theo initially, but Liam convinced them that he can be useful. Later with Theo's help, the pack captured a Ghost Rider in a specially-designed cage, but is unsuccessful in interrogating him. Later Mason figured out that Parrish can communicate with the Riders, but it ended up triggering his hellhound side and attacked Scott and his pack.
With Scott and his company distracted, Mr Douglas sneaked inside. He overpowered Theo and then killed the Ghost Rider and ate its pineal gland. Meanwhile, Lydia revealed to Sheriff that Claudia is a ghost like Caleb, conjured by him, to fill the void in his life created by Stiles's erasure. They even find Stiles's old bedroom behind a wall in the Stilinski house. Also, Malia asked for Peter's help to find the abandoned train station, where Stiles is being kept hostage by the Ghost Riders.
The chapter ended with Mr. Douglas attacking Corey using the Ghost Rider's whip which causes him to vanish like the Riders' other victims.
© Copyright IBTimes 2023. All rights reserved.