Tehran street where Saudi Arabia embassy sits could be renamed 'Sheik Nimr' after executed Shia cleric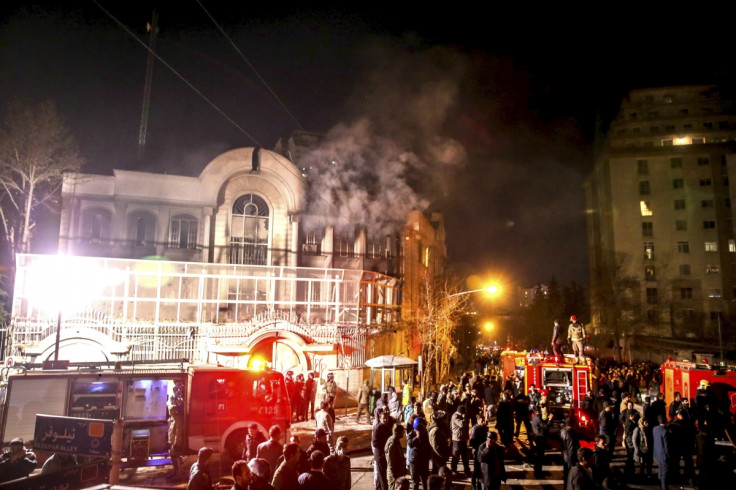 The street where the Saudi Arabian embassy sits in Tehran could be renamed "Sheik Nimr" after the "martyred" Shia cleric was executed by the Saudi state. On 1 January, the prominent anti-government and pro-reform Sheik Nimr al-Nimr was executed by the kingdom, sparking sectarian protests across the Middle East.
The worst of the violence culminated in Shia-led Iran where the embassy was stormed by citizens, smashing windows, ransacking rooms and setting fire to the building with petrol bombs. Iran's supreme leader Ayatollah Ali Khamenei announced that Saudi politicians will face "divine vengeance" over the execution of al-Nimr.
After the news broke on 2 January that the Saudis had killed al-Nimr, along with 46 other prisoners, Tehran announced the executions would cost the Sunni-ruled Saudi kingdom "dearly". Iran's Attorney General Dolatabadi said 40 protesters were arrested in the protests and that none of the embassy's staff were in the building at the time.
On Tuesday Tehran City Council will discuss renaming the street where the Saudi Arabian embassy sits, currently called Boostan, "Sheik Nimr" after the cleric who was praised by his supporters for his peaceful rhetoric. In 1981, Iran changed name of the street where the UK embassy in Tehran was located from Churchill to Bobby Sands, following the IRA member's death at HM Prison Maze following a hunger strike.
Iran's supreme leader Ayatollah Ali Khamenei increased tensions on 3 January tweeting: "This oppressed scholar had neither invited people to armed movement, nor was involved in covert plots. The only act of #SheikhNimr was outspoken criticism."
He added in a further tweet: "Unfairly-spilled blood of oppressed martyr #SheikhNimr will affect rapidly & Divine revenge will seize Saudi politicians". Protests were also seen in Qatif in eastern Saudi Arabia where al-Nimr's home town, in Yemen, Pakistani-Kasmir, and Bahrain with campaigners waving flags and banners at the Saudi embassy in London.
Washington yesterday urged the Saudi government, along with other Middle Eastern nations to "redouble efforts aimed at de-escalating tensions". Although Riyadh appears to not have taken much notice, with a Saudi government spokesman saying: "The Iranian regime is the last regime in the world that could accuse others of supporting terrorism, considering that (Iran) is a state that sponsors terror, and is condemned by the United Nations and many countries."
Execution anger
Nimr Al-Nimr, 56, was a key activist who voiced concerns about Saudi Arabia's and Bahrain's monarchy during the Arab Spring of 2011. He was arrested in 2012 accused of firing weapons at Saudi Police and was shot in the leg.
Despite Sheikh Nimr's supporters saying he only supported peaceful protests, he was found guilty and sentenced to death for a number of terrorism-related charges in 2014, including incitement of vandalism and sectarian strife, failing to obey or pledge allegiance to King Abdullah (then monarch of Saudi Arabia), calling for the collapse of the state, and insulting relatives and companions of the Prophet Muhammad.
Al-Nimr's nephew, Ali Mohammed al-Nimr, 21, was also sentenced to death by crucifixion for his alleged role in the anti-government protests. Arrested in 2012, aged just 17, his sentence has sparked worldwide outcry from human rights groups and activists said that his arrest was politically motivated; Ali's father, and al-Nimr's brother, yesterday called for calm amongst Shia youth.
The Saudi state said that out of the 47 executed on New Year's Day, one was a Chadian national while another was Egyptian. The rest were Saudis, including Sunnis convicted of terror attacks. Last year 157 people were put to death in Saudi Arabia, compared to 90 in 2014.
© Copyright IBTimes 2023. All rights reserved.