A 25-year-old man has been charged with first-degree murder after he opened fire at a church in Tennessee, killing one woman and injuring six others.
Police said Emanuel Kidega Samson killed the woman named Melanie Smith in the car park of Burnett's Chapel Church of Christ in Antioch on Sunday (24 September) before entering the main sanctuary door at the rear of the church. A victim, who was "pistol whipped", was taken to hospital.
The church's minister, Joey Spann, and his wife, Peggy were among the injured.
It was reported that more charges might follow Samson as four guns believed to be his and a rifle and three pistols were found in his SUV.
The Sudanese-born bodybuilder was arrested at the scene after an armed church usher stopped him. Robert Engle had reportedly run up to confront Samson despite being repeatedly pistol-whipped in the head.
"There was a significant struggle between the two. During the struggle, the gunman shot himself, probably not intentionally, in the left pectoral muscle," Nashville police spokesman Don Aaron told NBC News.
Aaron added that the suspect's condition is not life threatening and has been put under surveillance at Vanderbilt Medical Center for treatment.
The Memphis office of the Federal Bureau of Investigation (FBI) and the US attorney's office for middle Tennessee have opened a civil rights investigation into the case. It was said that Samson had come to the US from Sudan in 1996 and was a legal resident.
His public records do not list any criminal charges against him and shows him as a man of clean reputation. He had lived in Rutherford County and in South Nashville.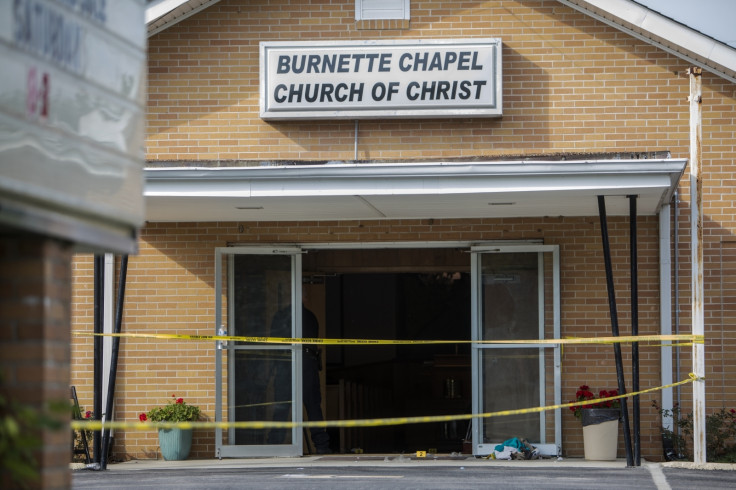 According to reports, the accused had shared number of cryptic posts on Facebook on Sunday morning before the attack. He had written: "Everything you've ever doubted or made to be believe as false, is real. & vice versa, B."
In another post he wrote, "Become the creator instead of what's created. Whatever you say goes."
Police have also started questioning his neighbours and acquaintances. Kenny Love, who went high school with Samson, said he was "heartbroken" over the news.
He said: "I was on Facebook and then someone said there was a shooting, and then they said the shooter was Emanuel K. Samson, and I said please don't let it be my friend. But then I looked, and it was, and I started crying. I couldn't believe it."
Love refuted any mental issue with Samson and said the attack at the church by him did not make any sense.
"Only thing I can go off of is maybe he spoke to somebody who got into his head. He wasn't big on religion. I think maybe the devil got to him. Or maybe he was going through something and no one knew it," he added.
Meanwhile, Mayor Megan Barry has condemned the incident and said the attack was "a terrible tragedy" for the city.
"My heart aches for the family and friends of the deceased as well as for the wounded victims and their loved ones," she said.
While US representative Jim Cooper tweeted that he was "horrified by the killing in Antioch". "Following reports and hopeful that injured victims recover quickly."