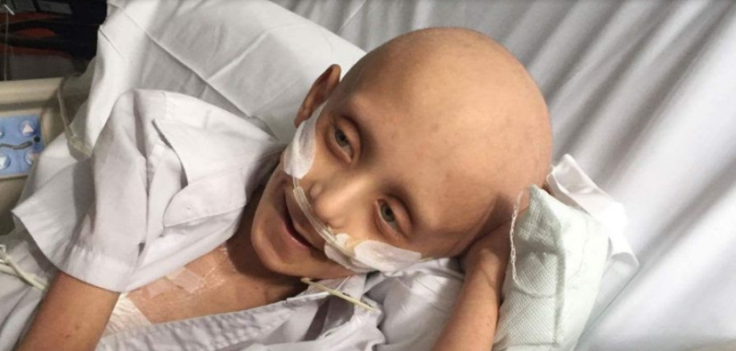 A terminally ill seven-year-old has raised enough money to be buried alongside his dead mother so that she can "look after him in heaven". Leukemia sufferer Filip Kwansky lost his mum when he was two.
Doctors at Great Ormond Street Hospital in London told Filip and his father, who suffers from spina bifida, that he will not survive his illness. Filip said his last wish was to be buried with his mother in Poland but his family were unable to afford the transportation costs from London.
Filip started fundraising on the JustGiving website, hoping that strangers would generously help him reach his target of £6,500 – enough to see him reunited with his mother, Agnieszka, who died from cancer in Wadowice in 2011.
His father, Piotr, told the Press Association: "Filip wants to be buried with his mother, so we will need to organise that locally and re-bury them together.
"He wants her to look after him. I will only be able to take Filip back to Poland myself. His step-mother and siblings will have to stay in the UK, as I do not have the means to arrange for passports and transportation to Poland for them all."
Heart-warmingly, public support for Filip has surpassed the family's expectations. They have now raised £9,152, 40% more than their initial target. Filip paid tribute to each and everyone of his generous supporters, saying: "Thanks for helping make my wish come true."
Because of his conditions, Filip has been diagnosed with neurofibromatosis as well as leukaemia, Filip is unable to travel to Poland until after his death. Both chemotherapy and stem-cell transplants have failed to help him recover.
Filip, from Colchester, Essex, will spend the rest of his days at Great Ormond Street.
His father added: "He says that I'm his angel that is looking after him here and that his mum will look after him when he is in heaven.
"I don't know how well he remembers his mother, as he was so young when she passed away, but he has visited her grave when he was well enough to speak to her.
"This is just a very stressful and distressing time for all of us. I did not imagine that I would have to bury my child... you should go before your child."