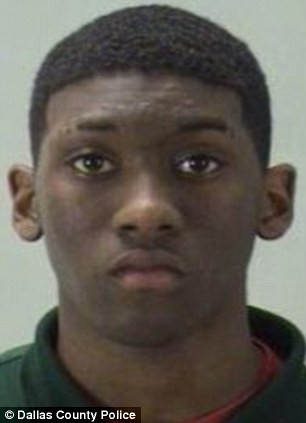 A man sentenced to five-years probation for raping a 14-year-old girl will not be subjected to restrictions typically given to sex offenders, because the girl "wasn't the victim she claimed to be", a Dallas County judge has ruled.
State District Judge Jeanine Howard altered the probation requirements for, Sir Young, 20, allowing the man who had pleading guilty to the charge of rape to still see his children and avoid sex offender treatment.
Young had pleaded guilty to the rape of a fellow pupil at Booker T Washington High School, Dallas - an incident that took place when he was 18 and his victim was 14.
Young was facing up to 20 years in prison but Judge Howard instead ordered him to do 250 hours voluntary work at a rape crisis centre.
Howard justified her lenient decision by telling the Dallas Morning News that the girl had texted Young asking him to spend time with her and she had agreed to have sex with him, but not at school.
Medical records show the girl had already three sexual partners and had given birth to a baby, the judge continued.
"She wasn't the victim she claimed to be," Howard said. "He is not your typical sex offender.
"There are rape cases that deserve life. There are rape cases that deserve 20 years," Howard said. "Every now and then you have one of those that deserve probation. This is one of those and I stand by it."
District Attorney Craig Watkins criticised the judge's decision.
"This young lady was 14 at the time she was sexually assaulted at school, and we cannot send the wrong message to rape victims who have the courage to seek justice," Watkins said. "I am disappointed the judge would choose to give the defendant probation after he admitted guilt, but even more alarmed the judge failed to impose standard sex offender conditions of probation designed to protect society."
The victim, who is now 17, told The Dallas Morning News that she had told Young "stop" and "no" numerous times before and during the attack.
"I did what I was supposed to do. I went to the law about this situation," she said. "It would have been better for me not to say anything."
Young's defence attorney, Scottie Allen, said the judge acted correctly as the case involved "two kids messing around at school".
He confirmed Young did rape the girl.
"Legally, he is now a sex offender, but looking at the underlying facts and circumstances, those conditions are not warranted," Allen said. "We cannot treat every case the same."