In a rare public appearance, Thailand's Crown Prince Maha Vajiralongkorn led thousands of cyclists throughout Bangkok in a 43km (27 mile) loop in honour of his mother, Queen Sirikit.
The 63-year-old prince donned a shirt in his mother's colour, sky blue, and adorned with the phrase "Bike for Mom". The event is the first to be publicly led by the crown prince, the BBC reported. The queen, who turned 83-years-old on 12 August, is in poor health, much like her husband King Bhumibol Adulyadej, and has not been seen in public.
The Straits Times reported that the heir apparent smiled and waved to the multitude of on-lookers throughout the cycling route. "I'm excited," 46-year-old Bangkok resident Ratree Srinuthum told the Times before the event. "It's usually hard to get this close to him."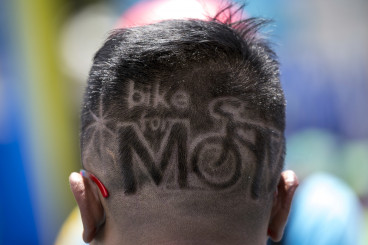 According to the BBC, nearly 300,000 cyclist registered to join Prince Maha Vajiralongkorn on the city-wide ride. The next in line to the throne was joined by high ranking government members, including Prime Minister Prayuth Chan-ocha and his cabinet.
The prime minister told reporters he hoped cycling, which has become increasingly popular in Thailand over recent years, would unite the country divided by last year's military coup.
Large portraits of the crown prince along with his mother were showcased around the country, the Times reported. The prince reportedly practiced riding around a royal garden ahead of the event.
The BBC reported that the strict lese majeste law in Thailand has blocked open talk of the royal succession. Although country officials have quietly reminded reporters that the crown prince is the heir to the throne, some in Thailand have discussed "alternative scenarios" that include the prince's sister Princess Sirindhorn.
The crown prince's rare public appearance on 16 August, in particular to an event with backing from the military government, appears to send the message that he is supported by the armed forces, the BBC noted.
King Bhumibol's increasingly poor health have many anxious over his succession after his death. Although the world's longest-reigning monarch enjoys high public affection, his rarely-seen son does not enjoy that outpouring of support.