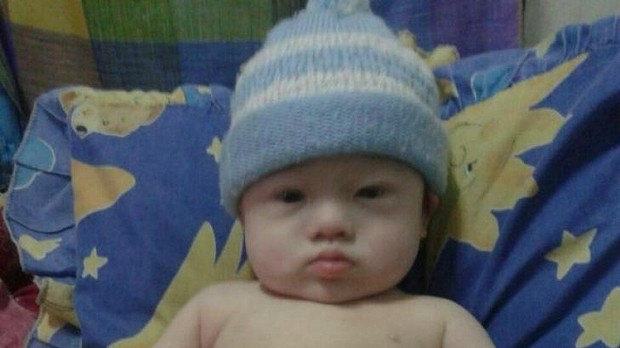 An Australian couple has abandoned a child, born to a Thai surrogate, after finding he had Down's Syndrome.
The couple left Gammy, who is now six months old, with his natural mother in Thailand and took his twin sister, who was born healthy, home.
Pattharamon Janbua, Gammy's mother, said the couple – whose identity is not known – repeatedly told her to have an abortion after an exam had showed that one of the twins had Down's Syndrome.
However, she refused, saying she was "afraid of sin".
The 21-year-old woman is now trying to raise money to save Gammy, who suffers from a congenital heart condition.
Janbua, who was paid $11,700 (£6,951) to be a surrogate by an agency, told Fairfax, "I asked the agency, 'Did I have to sleep with the man?' I was an innocent young girl and I don't know about this business.
"The agent told me, 'We are going to make a glass tube baby,' but I didn't understand.
"My husband agreed because we didn't have money to pay our debt and I didn't need to have sex with another man.
"I would like to tell Thai women, don't get into this business as a surrogate. Don't just think only for money... if something goes wrong no one will help us and the baby will be abandoned from society, then we have to take responsibility for that."
Janbua added that the agency had promised her an additional $1,673 (£994) after finding she was expecting twins. But she never received the money.
Following reports about the couple abandoning Gammy Thai officials warned that, according to Thai law, surrogacy is allowed only when a married couple who cannot conceive a child asks to a blood relative to be a surrogate. And that any surrogacy arrangement in which money is provided to the surrogate is illegal.
Taking a child away from his mother and taking them to another country without permission from Thailand's Ministry of Foreign Affairs also violates the country's human trafficking laws, they added.
According to Sam Everingham, director of the NGO Families Through Surrogacy, which brings surrogates and couples unable to have children together, this declaration puts ''hundreds of Australian and other foreign parents in a very difficult position".
"Many of them had taken on trust the advice of Thai doctors and agents to enter into surrogacy arrangements in Thailand," he said, "on the understanding that this was a reliable pathway to parenthood.
"It's a really sad story but not the first case we have seen in this area," he added. "There have been recent tragic cases of foreign parents not accepting disabled children born through surrogacy."
A Hope for Gammy campaign to raise money for Gammy was launched by the Australian NGO Hands Across the Water, which aims at improving the lives of Thai children.
Nearly $75,000 (£ 44,560) has been raised so far.