A British man named locally as "Christopher" has been questioned by police in connection with the double-murder of David Miller and Hannah Witheridge on the Thai holiday island of Koh Tao.
The man - thought to be Christopher Alan Ware - had been sharing a room with Miller at the Ocean View Bungalows accommodation, near to where Burmese workers found the victims' beaten bodies 20 metres apart on Sai Ree beach on Monday morning.
Injuries to his hands aroused the suspicions of investigators and he has since provided DNA for analysis. He has been asked to remain in Bangkok while police continue their investigations into the 24 and 23-year-old's deaths.
Police said Christopher left the popular diving paradise on the first ferry to mainland Thailand the next day after Miller and Witheridge's bodies were found partially naked with "gruesome" wounds to their heads.
One key piece of evidence that has emerged is a strand of Witheridge's hair, which the suspect's DNA will be compared to.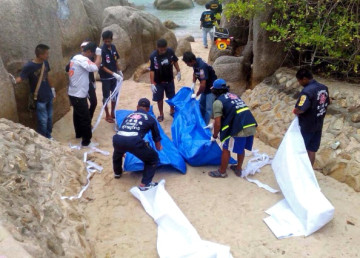 Police Colonel Prachum Ruangthong said: "The investigation is now focused on Christopher. We questioned him initially, but now we want to ask him a lot more questions. We are working with the British Embassy. We have asked him to co-operate and not to leave Thailand.
"We are checking everything in the accommodation where they were staying. We found some blood in one of the rooms and need to check it against the DNA we already have.
"We are hoping to get forensics this afternoon [Wednesday]. We want to clear this up as soon as possible, hopefully today. But it is still only an investigation – he is a suspect, but he hasn't been arrested."
Meanwhile, detectives remain on the hunt for an "Asian looking" man who was seen acting "suspiciously" the day of the tourists' murders.
More than 70 officers yesterday searched the area for clues and have said the man caught on CCTV is their prime suspect for the murders.
It is believed Leeds University graduate Miller, from Jersey in the Channel Islands, was killed with a single blow to the head by a hoe that was found nearby while Witheridge, a University of Essex post-grad, from Great Yarmouth, Norfolk, suffered more extensive head injuries.
The pair had attended a nearby beach party the night of their death and were seen walking hand in hand before they were attacked.