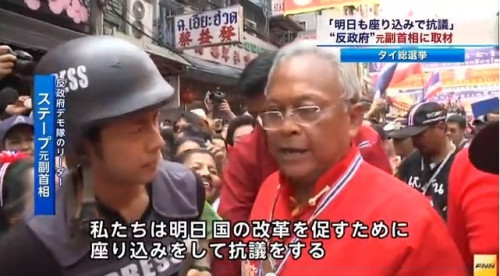 A Japanese reporter described as "handsome" and "mouth-watering" is taking social networks by storm, overshadowing Thailand anti-government protests and the February 2 general election boycott, the Bangok Post reported.
Daijiro Enami, 28, works for the Japanese television station Fuji Television Network. Numerous photos of the journalist have been shared on the Facebook, Twitter and Instagram pages after fellow journalists and anti-government protesters posted pictures of him doing his job or posing with girls.
Enami has interviewed anti-government protest leader Suthep Thaugsuban and covered Sunday's general election in the Bung Kum district, where caretaker Prime Minister Yingluck Shinawatra cast her vote.
On the popular Thai-language website and discussion forum Pantip.com, users wrote that the reporter was "supremely gorgeous" and said they wished someone like him could be their husband or bodyguard.
"Take off your bullet proof vest, I'll use my body to protect you," wrote a Pantip.com member using the pseudonym Noo Khon Dee.
According to a report in the daily newspaper Thai Rath, Enami was born in Kanangawa on 30 September1985. He played baseball in high school and studied public law at Keio University - one of Japan's leading universities.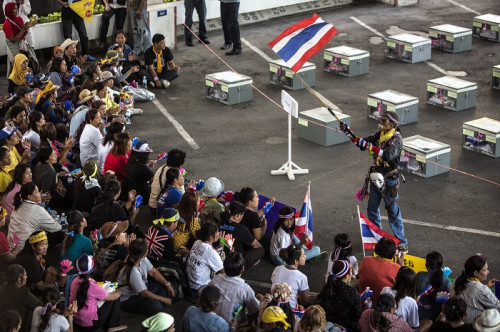 Thailand has been rocked by protests since last November as anti-government demonstrators are demanding current Prime Minister Yingluck Shinawatra step down.
Shinawatra, who is accused of corruption and misuse of state funds, called a snap election in response to the protests. The demonstrators, however, want the government replaced by an unelected "people's council" to reform the political system.
Protesters believe the election will be won by the ruling party because the main opposition, the Democratic party, is boycotting the poll and pro-Thaksin governments have won every election since 2001.
The decision to go ahead with the elections has further inflamed tensions across the country. A 60-day state of emergency was issued in the capital Bangkok.
Protesters disrupted Thailand's general election on Sunday, preventing voting in parts of the capital Bangkok and across the south of the country.
Ten people have died and 577 injured in two months of street violence.