After the flooding that was brought to parts of Texas two weeks ago, the Atlantic Basin is filled with three major storms that each are set to bring their own levels of chaos.
Hurricanes Irma, Katia and Jose are all different in size, power and direction, creating a headache for officials at the US National Hurricane Center.
Some parts of the Caribbean are poised to be struck by two hurricanes, meaning that by the time they recover from one storm, they will have to prepare for another.
The last time that three hurricanes formed like this at the same time was in September 2010 when category 4 storms Igor and Julia were joined by category 3 storm Karl.
Hurricane Irma
As a category 5 hurricane, Irma is as powerful as they come with recorded wind speeds of around 185mph.
Looking at radar and weather maps, the size of the storm illustrates the power that is behind Irma. If the hurricane was positioned over the UK, it would easily engulf the majority of mainland Britain, stretching from the south coast of England all the way up to northern Scotland.
At the time of writing, the storm has claimed the lives of around eight people including an infant who was killed in Barbuda.
Irma made landfall in the eastern Caribbean islands of Antigua and Barbuda and has since travelled slowly towards the US.
Unlike Hurricane Harvey where the strong winds were the secondary concern after the intense rainfall, Irma has brought both extreme winds and mass flooding.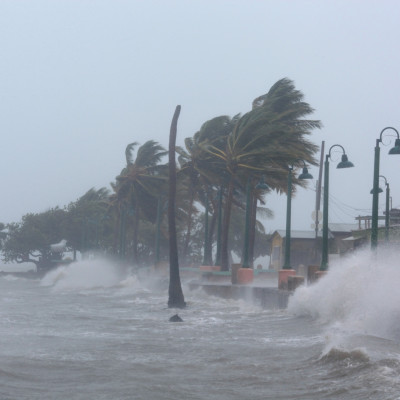 Hurricane Jose
This storm is much smaller than Irma but still packs a punch. The category 1 storm currently has wind speeds of almost 90mph, but warm waters are feeding it, so Jose could gather strength.
Although smaller than Irma, Jose would still stretch from the north to the south of England.
Jose is currently on a similar path to Irma but is expected to veer away from the Caribbean without causing too much damage.
The National Hurricane Center predicts that the path of Jose will take the edges of the storm over areas including Anguilla as well as Antigua and Barbuda. This will come just days after they were deluged by Irma.
After this, the storm is expected to veer northwards into the Atlantic.
Hurricane Katia
Katia is even smaller than Jose, but is still a category 1 hurricane with current windspeeds of around 80mph.
This system is about the size of Ireland and is moving in a different direction to the two Caribbean storms.
Katia is moving through the Gulf away from the US and towards the east coast of Mexico where the state of Veracruz has been placed on high alert.