Theresa May vows to keep post-Brexit Irish border 'friction-free and fluid'
Prime minister promises Enda Kerry there will be no return to the 'borders of the past'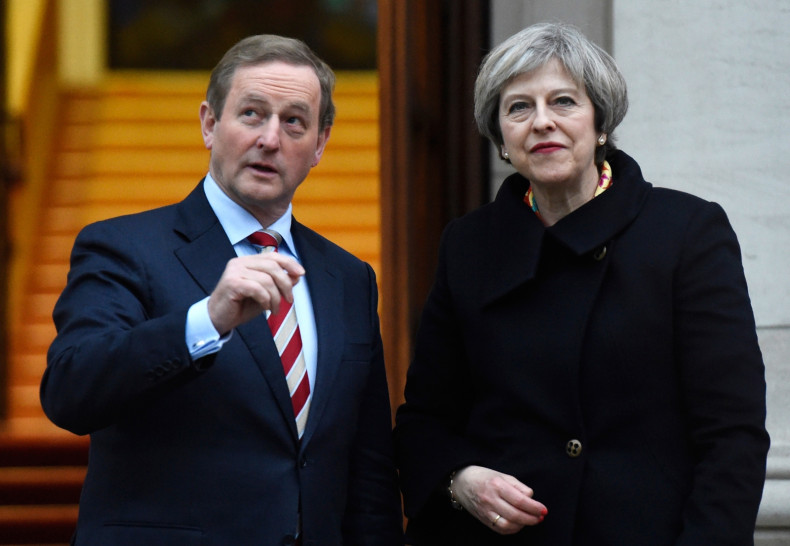 Theresa May has stated that there will be no return to a hard border between the Republic of Ireland and Northern Ireland. The British prime minister laid out her post-Brexit plans at a press conference in Dublin with Taoiseach Enda Kenny.
The UK will be a reliable partner to Ireland, May said, re-iterating that there will be no "return to the borders of the past".
Speaking on Monday (30 January), May said: "We have, of course, said we do not want to see a return to the border of the past. That isn't just a phrase. Actually it symbolises the sort of seamless, frictionless border that we want to see in the future."
She added: "Of course, there are elements of full membership of the customs union that would restrict our ability to trade and do trade agreements with other parts of the world.
"But I believe, and this is what we are working on, that we need to find a solution which enables us to have as seamless and frictionless a border as possible between Northern Ireland and Ireland so that we can continue to see the trade, the everyday movements, that we have seen up to now.
"And of course we also want to ensure that we carry on with the Common Travel Area, which was in existence long before either of us were members of the European Union or its predecessors."
Taoiseach Enda Kenny said assisting the British PM to agree a deal to keep UK-EU trade very close was an "absolute priority" for Ireland going forward in the Brexit talks.
Kenny said: "Our two governments are agreed that a close and friction-free economic and trading relationship between the United Kingdom and the European Union, including Ireland, is in our very best interests."
He added: "And as the UK prepares for its formal notification under Article 50, we want to see that these deep trading ties between our two countries are recognised and facilitated."
May had hinted that the UK could exit the European Customs Union (CU), saying she wanted "frictionless" cross-border trade. However, she has qualified her statement, saying she has an "open mind" on whether it should be through a new agreement or an associate membership, according to the Irish Examiner.
There were concerns that leaving the tariff-free CU could endanger the soft border and see the reintroduction of customs checks and controls unless an agreement could be reached.
The British prime minister was also asked about her decision to invite Donald Trump for a state visit to Britain amid the furore over his controversial travel ban.
"The United States is a close ally of the United Kingdom. We work together across many areas of mutual interest and we have that special relationship between us," she said.
"I have issued that invitation for a state visit for President Trump to the United Kingdom and that invitation stands."