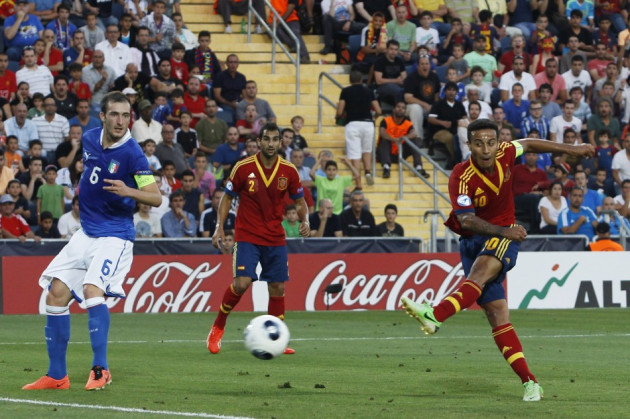 Barcelona midfielder Thiago Alcantara is unlikely to join Manchester United this summer, according to goalkeeper David de Gea.
The Italian-born player scored a hat-trick as Spain won the Under-21 European Championship for a second successive tournament following a 4-2 win over Italy, an end to a season which saw him make just 15 league starts for Barca.
Thiago's limited opportunities have triggered a clause in his contract which sees his release fee drop from €90m to €18m, an arrangement which becomes void on 1 August, leading to rumours that Premier League champions United are keen on signing the 22 year old.
De Gea, who claimed a second under-21 European Championship winners medal alongside Thiago this summer, has regularly intimated his desire to see the midfielder move to Old Trafford, but now insists his hope represents nothing more than a pipe dream.
"Hopefully I will have a Spanish team-mate at United next season. I, and every other Manchester United player, would like him to join the club," De Gea told El Mundo Deportivo.
"We have been joking about him joining United. Barcelona will realise that they have a great player, though, and I don't think they will let him go."
De Gea's pragmatic prediction is a blow to United's hopes of securing the services of Thiago ahead of David Moyes' first season in charge, following his appointment as Sir Alex Ferguson's successor.
While Moyes will be keen to assess current playing staff, behind the scenes United will be hoping to mark his arrival with a marque addition, not least to quell suggestions the Scot's appointment will spark a downturn in the club's fortunes after nearly three decades of unrivalled success under Ferguson.
Since earning promotion from the Catalans' 'B' team, Thiago has failed to hold down a permanent role in the club's first team during the past two seasons amid the presence of club stalwarts Andres Iniesta, Xavi and Sergio Busquests.
Thus the Spanish international may seek pastures new for the 2013/14 campaign and with the 2014 World Cup on the horizon next summer; Thiago is keen to see his opportunities become more regular with his club.
Thiago said: "There are no more underage teams left so now we are thinking about the senior side. I must play games with my club."