Arsenal striker Olivier Giroud wants the club to resign Thierry Henry for a third time but is unsure if the Frenchman will be make the loan switch in the New Year.
Manager Arsene Wenger is hoping to recruit Henry for a third spell on loan, with strikers Marouane Chamakh and Gervinho on international duty at the African Cup of Nations in South Arica at the turn of the year.
And Giroud, a summer signing from Montpellier who has netted seven goals this season, says while Henry would be welcome back at Arsenal, he is uncertain whether the club legend will move from New York Red Bulls.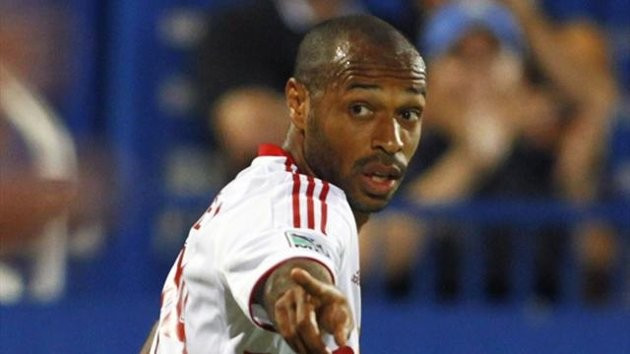 "Henry misses the enthusiasm around the Premier League," Giroud said. "But he didn't tell me if he will be back. It would be great joy to play with him.'
"I have to improve my statistics again and again," Giroud added on his own form. "I have been patient and worked.
"When you come into a new club, there is a time to adapt. Even Thierry Henry experienced it. If I could achieved just half of what he achieved."
Henry scored 228 goals in 378 games across two spells at Arsenal and achieved legendary status during his first spell at the club, leading to a statue being built in his honour as part of the club's 125 year anniversary celebrations.
The former France international returned for a brief loan spell in the MLS offseason earlier this year, scoring three goals in seven games.
And with Chamakh and Gervinho absent again for the African Nations Cup, Wenger has admitted he is tempted to bring Henry in for a third spell to help with the extra workload at Arsenal.
However, Henry's club New York Red Bulls, who were knocked out of the MLS conference semi-finals after a 2-1 aggregate defeat to DC United, are not keen on their prized asset spending another spell on loan, instead preferring their players take an extend break ahead of the new season.
Midfielder Tim Cahill has also expressed his desire to move to the Premier League for a New Year loan spell, claiming he could join Everton in the January transfer window, having left Goodison Park in the summer.