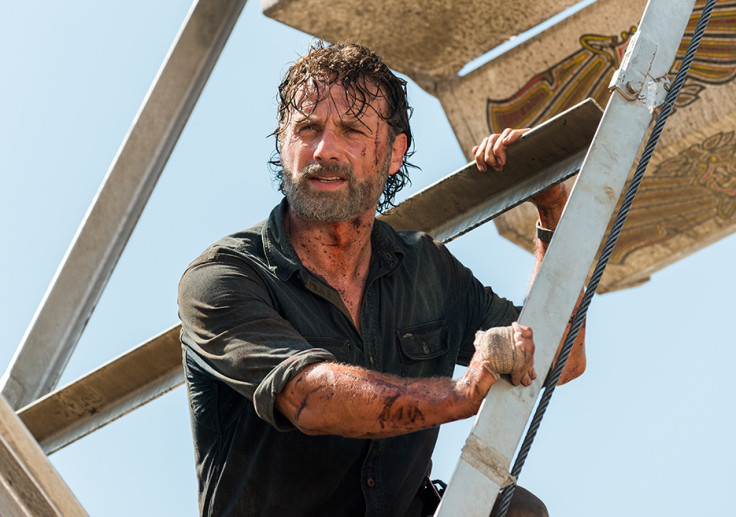 Ever wondered how Rick Grimes, the lead protagonist of The Walking Dead series, will die? Andrew Lincoln, who plays the character, has the answer and it's pretty epic. During the panel discussion at the PaleyFest 2017, the actor cheered fans with a possible scene description narrating the popular character's death.
"I'm gonna say this now: This is how I want Rick to die," Lincoln said while addressing TWD fans. He also reveals the last words of the Alexandria Safe Zone leader. "We're going through the desert somewhere, and I jump off the bus. So I jump in a very heroic act — Rick jumps off and calls 'Carl.' Maybe that's the last thing I say," he added.
The English actor wants Rick's death scene to have a historic twist at the end, which may change the show's direction by introducing the "cure", a concept fans desperately want the show creators to incorporate in the series.
"Then I'm dying, on my own. Just waiting to die," the 43-year-old continues. "I patch up and a day passes. I'm a survivalist. But I don't actually die," he reassured fans. Then came the brilliant twist: "The final shot is, 'Holy s**t! Maybe I'm the cure!'"
The actor ended the imaginary scene by separating the father-son duo Rick and Carl again. "Zombies coming, Rick gets up, follows the tracks to go see 'Carl' walking — the herd comes towards him, and they separate. He walks through. Boom."
The series is currently facing flack for its lacklustre script, which is also the reason being given for viewership ratings of TWD going down. From season 1 to 7, Rick Grimes and his team have been struggling for survival, sometimes from zombies but mainly from other notorious survival groups. Due to the monotony of the story, the series is slowly losing its appeal. Hence a "cure" can definitely bring the entire team into action and add the much-needed pace to the otherwise dull show.
The Walking Dead season 7 airs every Sundays on AMC in the US and on Mondays on Fox in the UK.