A 2-minute silence was held by thousands who gathered together at Old Compton Street in London to honour the victims of the Orlando shooting at the Pulse LGBT nightclub. Organisers of the London Stands with Orlando event said that 6,000 were expected to attend.
In Old Compton Street, the heart of London's gay quarter, restaurants and pubs shut down as shop owners and patrons stood on the streets at 7pm on Monday (13 June).
The crowds waved rainbow flags, while many people wept and put their arms around each other in a show of solidarity with LGBT people killed in Orlando.
Attending the vigil were Labour leader Jeremy Corbyn and Tom Watson, deputy leader of the Labour Party. There were cheers and clapping when the 2-minute silence ended. Balloons were released for each of the 49 victims.
London Mayor Sadiq Khan, who was launching Pride in London's No Filter campaign outside City Hall, said London stands "shoulder to shoulder" with the victims, their friends and families. "I'm clearly conscious of how vulnerable LGBT Londoners feel at the moment," he said in an ITV News report.
"It's really important that they are able to be who they are but it's in the context of homophobic crimes going up last year.
"If you're an LGBT Londoner you should feel at home in London. I want everyone not just to feel safe but be safe as well and also to be who they are."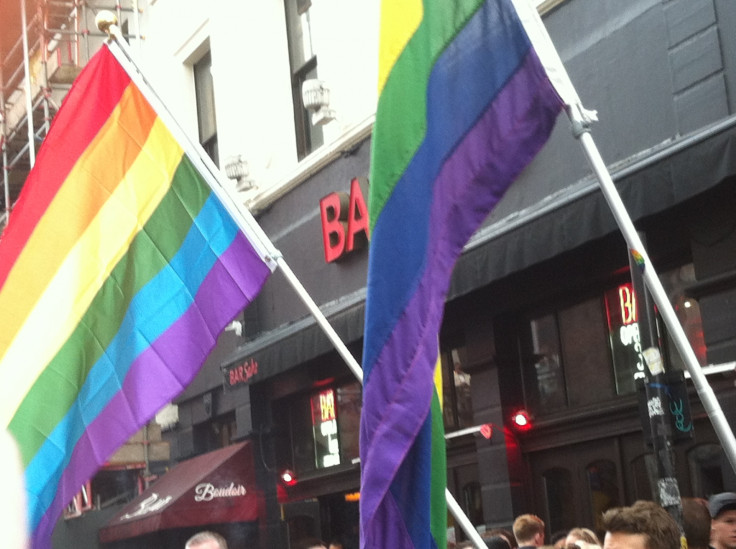 Home Secretary Theresa May said in the House of Commons that the Orlando shooting was "an act of homophobic hatred. I want to make clear to all LGBT people in Britain and around the world that we will not tolerate such bigotry and violence."
Murders of LGBT and HIV-affected people in the United States have increased by 20% since 2014, according to a report released on Monday 13 June.
The report from the National Coalition of Anti-Violence Programs (NCAVP), stated that there were 24 reported hate violence homicides in 2015, making it the deadliest year since 2012. The attack on an LGBT nightclub in Orlando on Sunday 12 June, would make the 2016 figures 100% higher than those for 2015.