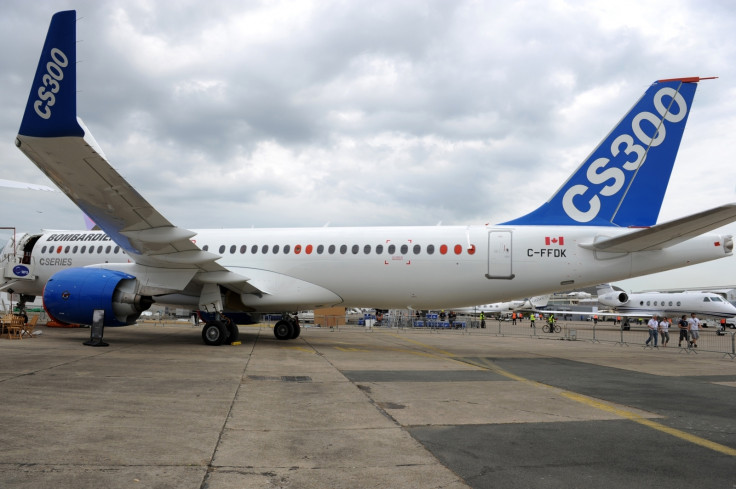 A US Department of Commerce ruling against the aerospace firm Bombardier has jeopardised thousands of jobs in Belfast and complicated matters for the British government as it grapples with Brexit.
The Bombardier C-Series jets will be hit with an interim tariff of 219.63% after a ruling in a case sparked by a complaint by Boeing that Bombardier got unfair state subsidies from the UK and Canada. The wings of the airliners are made in Northern Ireland.
Boeing claimed each jet cost $33m (£25m) to produce but that Bombardier had sold them for $20m (£15m) each in a display of "price dumping".
Bombardier denied that the £75m in support from the UK and $1bn (£745m) from Quebec was illegal. The US International Trade Commission will make a final ruling in February 2018 but already unions are expressing concern.
Noel Gibson, who has worked at the Bombardier factory in East Belfast for 27 years said: "It is workers who lose out in any dispute and that's what politicians need to realise, that we suffer when commercial disputes break down.
"They need to emphasise to Boeing that they need to settle this without putting thousands of jobs at risk," Sky News reported.
A UK government spokeswoman said: "As the Prime Minister said last week, we will continue to strongly defend UK interests in support of Bombardier at the very highest level because an adverse outcome risks jobs and livelihoods among the 4,100 skilled workers in Belfast."
It was reported earlier in September that the British prime minister, Theresa May, had pleaded with the US president, Donald Trump, to intervene in the case.
Jimmy Kelly, Unite Regional Secretary, said: "The decision taken by the US department of commerce was not unexpected - unfortunately it is unlikely to be overturned by president Trump whose protectionist tendencies are well-known.
"The threat of punitive tariffs on the C-Series will cast a shadow over Bombardier's future unless the company can source alternative and substantial sales outside the US market."